As students filed into the Adelle Turner Elementary School cafeteria, they ran over to the empty tables topped with college pennants from schools across the country.
Excited third-, fourth- and fifth-graders rapidly discussed where they planned to go college—Texas A&M, University of Texas, and the University of Chicago were among the top choices.
"Oh, I want to be a Longhorn," said one fourth-grade boy.
"Well, I'm going to Prairie View A&M University," another student emphatically replied.
The students then sat down to draw and color their own pennants provided by the African American Success Initiative (AASI), a program aimed at closing the achievement gap and increasing access to opportunities for African American students by exposing them to various types of colleges and universities.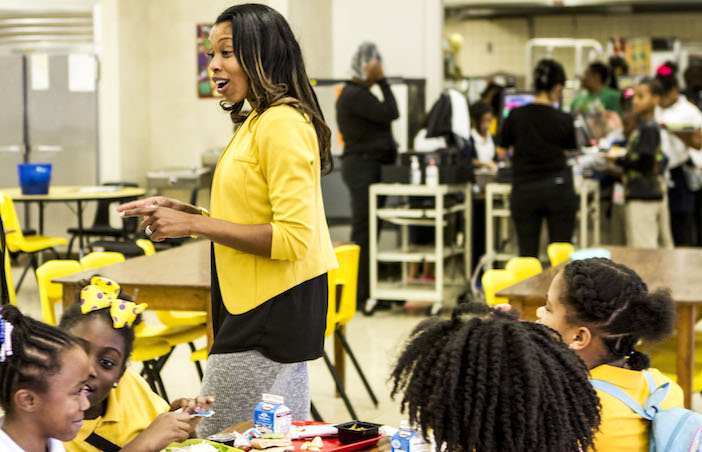 Through the simple coloring activity offered during their lunches, students self-engaged in conversations about their futures, their goals, their dreams, and what they one day hoped to become. A key focus of the AASI in the Dallas Independent School District is to encourage a future for African American students in the district.
"The program focuses on educating and inspiring all students in the David W. Carter and Wilmer-Hutchins feeder patterns to further their education in and outside the classroom," said program coordinator Jamila Thomas, a graduate of Lincoln High School, Florida A&M University and University of Chicago. "Equally important, the focus is to encourage high academic achievement and provide a glimpse of the possibilities after achieving a higher education degree."
In addition to initiating conversations about college and career readiness, AASI focuses on academic achievement, social and emotional development, cultural diversity, community partnerships, parent and family engagement and student advocacy for African American students.
"AASI wants to inspire all students to look at the world through a lens of unlimited possibilities," Thomas said.
For more information on the African American Success Initiative, contact African American Success Initiative Coordinator Jamila Thomas at 972-925-8820.