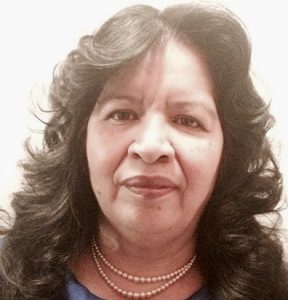 Walking the halls of W.H. Adamson High School with Community Liaison Maria Garcia, it's unusual to encounter anyone who doesn't know her even in the early days of a new school year.
A mainstay at the Oak Cliff campus for 18 years, Garcia is still excited about her job connecting the school with parents and community resources. Since 1993 when she transitioned from an Adamson parent and PTA officer to a paid staff member, Garcia has touched the lives of thousands of families. You might say she's a legend. Recently, she was officially presented that title by Ford Motor Company, which honored her as one of its four 2015 Mujeres Legendarias (Legendary Women) in recognition of her impact on education in the Adamson community.
Asked how it feels to be named a legend, she said, "I think it means I'm getting old." Still, Garcia says she's not ready to slow down.
"There's too much to do to help students graduate and become successful members of society," she said.
Her office in the expansive building that opened in 2012 is a large room that serves as the school's parent center where she welcomes parents to sewing classes and workshops or refers them to resources to help their children. Some of the parents she works with know her from the years they were students at Adamson.
One of these alums is Joya Aguilar, who admits Garcia used to scold her for being tardy to class. Today, Aguilar is a parent volunteer with two children at the school and praises Garcia for her generosity of spirit.
"She always makes every parent feel like they're not alone in the problems they're having with their kids," Aguilar said. "Sometimes parents come in here and they're on their last nerve and their last dime, and she'll talk to them and talk to them until they feel more comfortable. She feeds the students if they're hungry and even cooks for the staff."
Principal Janie Ortega credits Garcia's connections and passion with keeping everyone — the churches, the neighborhood, the businesses, service organizations and the parents — working together for the benefit of students.
"We have students here who are homeless, some are living on their own or living with one parent or a grandparent," Ortega said. "Some are the providers for their family. Because of her longstanding reputation in the community, she's able to find resources to help students so they don't have to leave school, so they can continue and graduate. She's my right hand because anything that I need communicated or planned or implemented with parents, she's there."
To learn more about the Legendaria award and read what her colleagues, current and former students and community members have to say about Garcia, visit the Ford Legendarias website.