The Dallas ISD's Board of Trustees enacted a policy designed to ensure the inclusion of minority and women-owned businesses in its purchasing and contracting activities. Today, the Dallas ISD Minority/Women Business Enterprise (M/WBE) Department is strategically working to achieve the board's goals and has received numerous awards and recognitions.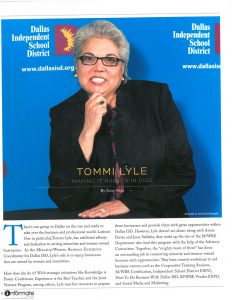 Informate DFW, a magazine that promotes advancements in the Hispanic community, recently profiled Latinas in Business Diversity. Tommi Lyle, M/WBE Coordinator, was featured for the excellent work she has done within the community.
"We are constantly busy, but it's worth it because we love raising awareness about the opportunities minority and women-owned businesses have in working with Dallas ISD," Lyle said.
Lyle said the M/WBE office has appreciated the recent attention for their work. But, regardless of any magazine profile, Lyle said her office will continue working hard to meet with minority and women-owned businesses about possible opportunities with the district.
"It can be out of sight and out of mind for many people, so we have to remain consistently active in the community," Lyle said. "We kind of have to be everywhere."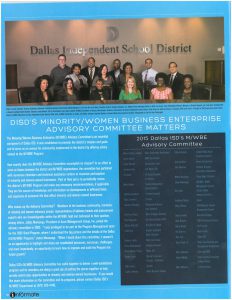 The Informate DFW Summer 2015 edition also profiled the district's Minority/Women Business Enterprise Advisory Committee, which serves as an avenue for community involvement in the district by offering advice related to the M/WBE program as well as the 2015 Knowledge Is Power Conference.
"Much of the program's success is accredited to a committed Board of Trustees, general superintendent, supportive district executives and staff, excellent vendors, and community involvement coupled with a dedicated M/WBE staff," said Annie Partee, director of the M/WBE Department. "It is my pleasure and honor to work with Tommi and Jesse. They are exceptional employees and exemplify excellent work ethics."
If Annie Partee, Tommi Lyle, and Jesse Saldana—affectionately called the mighty team of three—aren't in the office facilitating procurement and M/WBE focused strategies, they are likely in the community meeting with businesses, chambers of commerce, community members, and other key district stakeholders.