With the Teacher Excellence Initiative, Dallas ISD has created an innovative pay-for-performance evaluation system that identifies, supports and rewards effective teachers.
In creating TEI, Dallas ISD faced the challenge of designing an evaluation system that was equally rigorous for all teachers. Put another way, TEI had to ensure the evaluations of a second-grade teacher and a high school English teacher would be equal and fair.
The solution to this challenge is what the district calls a "target distribution." Because the target distribution model is new to Dallas ISD, the Hub has compiled a Beginner's Guide to help bring people up to speed.
What is a target distribution?
TEI identifies six effectiveness levels that a teacher can earn in fall 2015. These effectiveness levels are Progressing I; Progressing II; Proficient I; Proficient II; Proficient III; and Exemplary I.
The district has a goal for the percentage of teachers this year that will earn each of the six effectiveness levels. In other words, there is a target for how effectiveness levels will be distributed among teachers. That's the target distribution: a set of percentages the district hopes to achieve.
To meet this goal, the district is applying the target distribution to specific areas of a teacher's evaluation, such as student achievement and student surveys. We will go into more detail on how target distribution is applied on these different levels in a future guide.
What is the reason for using a target distribution?
Teachers have different components for what determines their overall evaluations. Below is a graphic showing the four teacher categories and how their evaluations differ: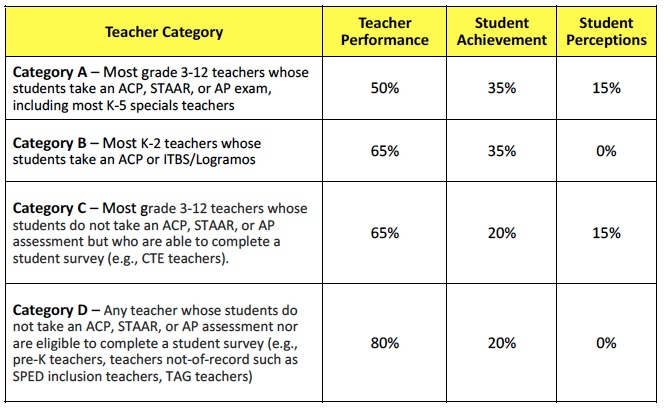 The district is applying the target distribution separately to each of the four categories of teachers so that each category will have approximately the same percentage of teachers in each effectiveness level. This means that a teacher in Category D, whose evaluation, for example, does not factor in results from student perception surveys, has an equal opportunity to achieve distinguished effectiveness levels as a teacher in Category A.
When will a teacher receive information about their point values and evaluation scores?
Teachers will receive their previous year's evaluation rating, which determines the current year's effectiveness level, in September. A teacher will have access to a scorecard with this information. The scorecard also reports all the underlying point values that went into determining the evaluation rating and effectiveness level.
Could a teacher's salary go down this school year as a result of their 2015-16 effectiveness level?
No. A teacher this year could only see their salary increase. There is no scenario in which a teacher's salary could decrease in 2015-16 due to their effectiveness level.
How is the district supporting teachers through this process?
In addition to identifying and rewarding excellence, the district is committed to enhancing its support for teachers' professional growth.
To name a few examples, Dallas ISD is compiling short exemplar videos of Dallas ISD teachers showing best teaching practices; enhancing one-on-one coaching supports; increasing whole-group training offerings; developing summer school learning labs; building robust district content workshops; and creating differentiated professional development academies that target select teacher.