A record number of job candidates registered for and attended Saturday's district job fair at Emmett J. Conrad High School.
More than 2,250 candidates registered for and nearly 1,200 candidates attended the event. District schools made job offers to 406 candidates at the event.
"I am personally excited that this is one of our biggest job fairs we've ever had," said Jordan Carlton, talent leader for the district's Human Capital Management (HCM) department.
Saturday marked the district's first major job fair under its new teacher evaluation system that compensates teachers for their in-class performance. Prior to the event, Carlton said he'd heard from many candidates who were excited that effective teachers are financially rewarded under the new teacher evaluation system.
"I've heard from candidates who look forward to the opportunity to earn what they are worth," he said.
In addition to connecting candidates to jobs, Saturday's job fair featured district leaders presentations on initiatives such as the Teacher Excellence Initiative and effort to expand Pre-K education. The job fair also had booths dedicated to the initiatives where candidates could ask questions and learn more.
Carlton said he's appreciated that job candidates were able to learn about the initiatives from the district leaders themselves.
"It's more exciting to hear about (the initiatives) in person, and to hear the excitement in the district leaders' voices when they talk about them, than to just read about it on a screen," Carlton said.
The presentations on the district initiatives were be live streamed.
The job fair was a part of the district's goal to get an effective teacher in every classroom and to have zero vacancies by May 31.
"I am so excited about the upcoming teacher recruiting season," HCM Interim Director Karry Chapman said prior to the job fair. "We are expecting a great turnout and are ready to interview and hire innovative and enthusiastic educators who will bring diverse skills, experience and passion to our classrooms."
Breakdown of job offers to candidates based on feeder pattern: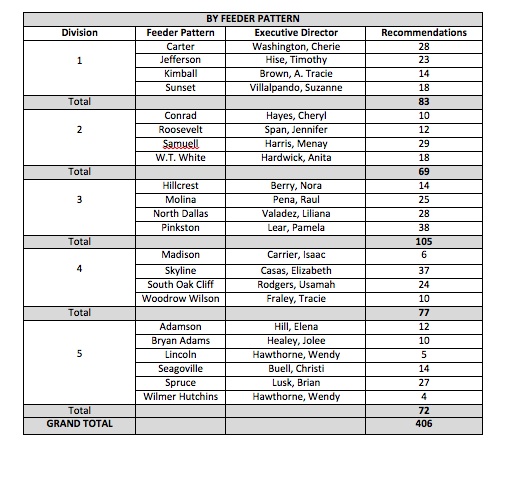 Breakdown of job offers to candidates based on certification: