At Dallas ISD, we talk a lot about Destination 2020.
You will see Destination 2020 repeatedly mentioned on the Dallas ISD website, discussed in speeches from district leaders, and referenced when talking about other district initiatives.
For those who are newer to Dallas ISD, or who haven't closely followed the progress of Destination 2020, we've compiled an introductory guide to help catch you up to speed.
What is Destination 2020?
In the simplest terms, Destination 2020 is the district's strategic plan to raise student achievement for all students. The district implemented the Destination 2020 plan in 2012.
What are the goals of Destination 2020?
The ultimate goal is for Dallas ISD to have the highest college- and career-ready percentage of graduates of any large urban school district in the nation. Specifically, the district has set for the following benchmarks to be met by September 2020:
90 percent of Dallas ISD students graduate on time
40 percent of Dallas ISD students attain a 21 or higher composite score on the ACT exam or SAT of 990 on Reading/Math
75 percent of Dallas ISD students are proficient on the "Year 2020 workplace readiness assessments"
80 percent of Dallas ISD students enter college, the military, or a "career-ready job" straight from high school
How will the district meet these goals?
Four priorities, which are in the graph below, form the backbone of Destination 2020.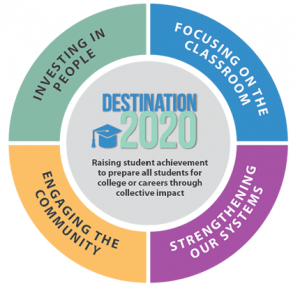 The district is addressing the priorities in multiple ways. For example, to "Strengthen Our Systems," the district is expanding technology—Dallas ISD's state-of-the-art fiber network is one of the most robust in the country—and enhancing school environments.
Campus leaders believe that investing in people, focusing on the classroom, engaging the community, and strengthening our systems will accomplish the goals set out by Destination 2020.
What are some of the other related initiatives?
As part of the effort to focus on the classroom, the district implemented the Teacher Excellence Initiative (TEI), which is a new evaluation system that defines and rewards effective teaching. The district's goal is to get effective teachers in every classroom.
Meanwhile, Imagine 2020 is an effort by Dallas ISD to improve academic performance in feeder patterns that have historically underperformed. The district is working to boost achievement in those areas through a mix of additional staff support for teachers and students, greater use of technology and the growth of community-based tutoring and support programs.
Given the importance of TEI and Imagine 2020, we will compile similar introductory guides to these initiatives in the future.
Where can I learn more about Destination 2020?
Click here to visit the Destination 2020 homepage.
Also, below are links to other stories we have written on Destination 2020.
Opportunities for students frame board's discussion of next phase of Destination 2020
District focused on Destination 2020