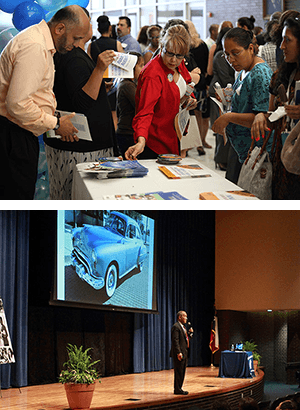 The next phase of Dallas ISD's transformative Destination 2020 effort will include the launch of personalized learning, a focus on social-emotional learning, expanded prekindergarten opportunities and a goal to open as many as 35 additional schools of choice by 2020.
Superintendent Mike Miles rolled out the ambitious blueprint during a community-wide gathering of more than 400 people on June 17 at W.H. Adamson High School. Set to core beliefs of academic achievement, high expectations and excellence, Miles' presentation served as a challenge to create positive change for the district's nearly 160,000 students.
"We can't just take the same things and do them better. We have to think differently," Miles said in his presentation. "We have to do different things well."
Among those different actions is a goal of opening an additional 35 schools of choice by 2020. Miles said the success of students currently enrolled in the schools of the Yvonne A. Ewell Townview Center as well as Booker T. Washington High School for the Performing and Visual Arts are clear evidence that Dallas ISD must provide similar opportunities to other children.
"We have other kids who need more choices," he said.
Miles also addressed Personalized Learning, a new initiative to provide individual students an education that fits their needs and abilities. By 2020, he said, Personalized Learning will be the primary mode of instruction in at least 15 schools.
"Let's make sure our kids get what they need, when they need it while maintaining high standards," Miles told the crowd.
A third pillar of Miles' presentation was social-emotional learning, a style of education that helps students understand and manage emotions, set and achieve positive goals, establish positive relationships and make responsible decisions. Dallas ISD plans to increase its offerings in that realm to help middle school and high school students develop the mindset needed to maximize their success.
"We have to teach students how to persevere, how to be their best," Miles said. "We're not trying to replace other organizations (and role models), but we have to do our part."
The initial moments of Miles' presentation focused on the success of the "heavy lifts," or major efforts achieved since the launch of Destination 2020. Notable steps include the development of a new evaluation system for principals, the approval of the Teacher Excellence Initiative evaluation and compensation effort, and expanded pre-kindergarten.
In the end, Miles said the transformative mindset growing in Dallas ISD has already paid dividends. He pointed to the improvement of the district's Human Capital Management department in filling teacher vacancies as of June 15 in the last three years as proof that change is taking place.
The district has improved from hiring 265 teachers by that date in 2012 to 664 teachers in 2013. By 2014, the district had filled 1,971 teacher vacancies filled by June 15.
They thought differently and tried a host of strategies that had not been tried before, Miles said. "They turned that paradigm on its head."