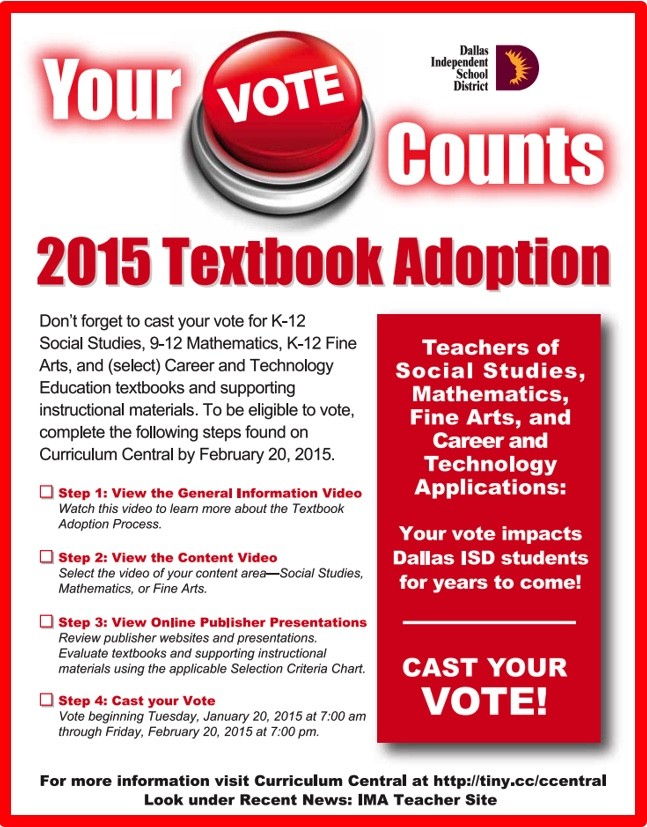 Teachers of K-12 Social Studies, 9-12 Mathematics, K-12 Fine Arts, and select Career and Technology Education content areas are encouraged to cast their vote by Friday, February 20, 2015 at 7:00 pm.
Voting by eligible teachers can be completed either electronically via Curriculum Central or for teachers in need of additional assistance, computer labs will be available at the H.B. Bell School Support Service Center computer lab (3rd Floor) from 4:00 p.m. – 6:00 p.m. the week of February 16-20, 2015.
To begin the voting process, teachers should visit Curriculum Central at http://tiny.cc/ccentral, look under Recent News for the IMA Teacher Site, and follow the steps as outlined. Please contact Matt Tyner, Manager of Textbook Services, at 972-925-4787 or email mtyner@dallasisd.org for additional information.