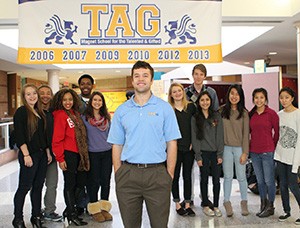 Editor's note: During the Thanksgiving holiday, The Hub will take a look back at some of the best and most popular stories from our first semester. This story was originally published on Aug. 27, 2014.
Two of the top 10 performing schools in the nation are in the Dallas Independent School District, according to a recent report released by The Daily Beast, a news reporting and opinion website
The School for the Talented and Gifted at Yvonne A. Ewell Townview Center ranks No. 3 in the country and the School of Science and Engineering at Yvonne A. Ewell Townview Center ranks No. 7.
"These schools have continued to set a high standard of achievement for the Dallas ISD, and that success in the classrooms deserves high praise at a national level," said Superintendent of Schools Mike Miles. "I commend these teachers and staff for preparing our students to be armed with skills that give them a better chance at being college or career ready upon graduation."
School rankings are determined by using six indicators from school surveys to compare programs across the nation. The most heavily weighted component is derived from a school's graduation and college-acceptance rates.
Other Dallas ISD schools making the list include: Rosie M. Sorrells School of Education and Social Services at Townview (No. 94); School of Business and Management at Townview (No. 101), Trinidad "Trini" Garza Early College High School (No. 345), School of Health Professions at Townview (No. 574), Skyline High School Career Development Center (No. 734).