Honor. Service. Sacrifice. Duty.
To the men and women of the United States Armed Forces the words hold a special meaning. For hundreds of military veterans in Dallas ISD these values continue to be called upon daily in service to students, families and our community.
With the same devotion they showed to country, these men and women now serve to create opportunities for the next generation to pursue academic excellence. With Veterans Day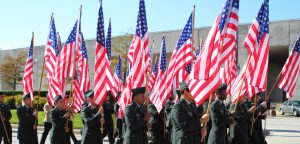 quickly approaching, Dallas ISD is honored to recognize its employees whose sacrifice has made our country a better place. On Tuesday Nov. 11, the district will proudly celebrate and acknowledge these heroes and heroines.
Former Marine Corps veteran Kyle Roberts, now a social studies teacher at W.W. Samuell High School, put it best: "As a Dallas ISD social studies teacher I try to get my students to feel and internalize what those who have come before us, and those serving now, have done to give us the freedom to do things we take for granted," he said. "I hope now I can pass this along to a new generation."