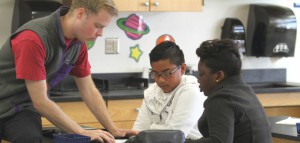 Construction is beginning at the first of 47 schools set to receive $143.3 million in science lab expansions and heating system improvements funded by the district's sale of Qualified School Construction Bonds. The $26.2 million in science lab upgrades will benefit 26 of 37 district middle schools, bringing them into compliance with TEA science instruction requirements, and enabling more students to engage in hands-on science experiments and lab projects.
The sale of Qualified School Construction Bonds is allowed under federal and state law for improvements to existing school district facilities. Essentially a loan of federal funds which must be repaid within 20 years, the bond sales will fund the science lab upgrades and replacement of outdated steam heating systems. Conversion of the antiquated steam heating systems to hydronic systems in which heat is generated by the circulation of hot water will reduce humidity, enhance environmental quality, and make it easier to control temperatures, according to Construction Services director Larry Zerby.
Thomas C. Marsh Preparatory Academy Principal Nicky Niewinski welcomed the news that her campus will receive three new science labs. Niewinski, who worked with architects on plans for the new labs, recently told members of the Bond Advisory Committee that more labs will mean more opportunities for her students to experience the types of hands-on science experiments required by TEA mandates.
"As principals, we know what works for students and teachers," Niewinski said. "This expansion will equip us to better prepare our students for high school, college and careers." Marsh, where work is scheduled to begin in January, is one of five middle schools set to receive both science labs and HVAC upgrades. Having the construction projects happen while school is in session represents something of a hardship, but Niewinski said the ultimate payoff for students is worth the short-term inconvenience.
The schools were selected for the improvements following a review of the facilities conducted by Dallas ISD's Operations Division, curriculum leaders, and representatives on the district's Bond Advisory Committee. Factors such as the age and condition of the buildings and the need for lab expansion based on enrollment were considered in the selection process. Schools constructed under the 2002 and 2008 Bond Programs were not considered. The completed lab expansions will equip older middle schools with modern science labs similar to those found in newer district schools. The accompanying photos show students at work in labs at Ann Richards Middle School, constructed in the 2008 Bond Program.
The first round of improvements are scheduled for completion by the end of the current school year, with the balance of the projects set for completion by May 2016.