It's a good bet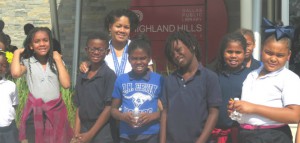 the 29 J.N. Ervin Elementary students who toured the new Highland Hills Library on Monday had heard more than once how important it is to visit the library. But after receiving a private tour of the $5 million dollar facility, complete with refreshments, and leaving their handprints in cement at the front door, that message probably resonates as never before.
Ervin librarian Cheryl Franklin wanted her students to be among the first to celebrate the city's newest library, a replacement for the 40-year-old facility it's replacing. The new library, built on a former vacant lot just blocks away from Ervin, has changed the landscape in the neighborhood, and prompted lots of excitement. "Having the new Highland Hills Library in the neighborhood gives our students at J.N. Ervin what they had before, but in a fresh, newly updated, and improved setting with additional access to books, literature, homework help, and educational enrichment," said Franklin.
After all, what better way to get families in the door to make use of the new facility than by getting their children excited about it? And excited they were, as their bus pulled up at the facility at 6200 Bonnie View Drive amid smiles and welcomes from city and library officials and neighborhood representatives.
Greeted by head Librarian Lee Anne Detzel, the students were ushered in and led through the 19,570-foot-facility, which on this day contained only shelves, tables and chairs. Detzel pointed out the shelves where the children's books and videos, and new computers would soon be located. The tour included a look at the kitchen area and the light-filled community room and classrooms, and a brief talk by a representative of the Turner Construction Company, which built the library. From there, it was on to refreshments. And then, the students were ushered into the bright sunshine just outside the library entrance where they each placed their small hands in wet cement, leaving a lasting impression of the day they were treated as VIPs at their neighborhood library, a memory they are likely to long cherish.