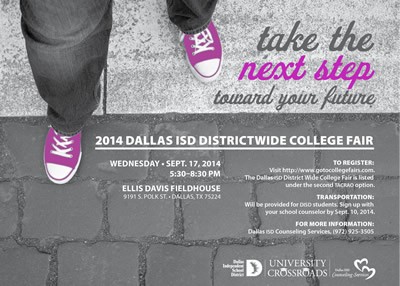 The Dallas Independent School District will host its eighth-annual Districtwide College and Career Fair for all high school juniors and seniors and their parents 5:30-8:30 p.m. Wednesday, Sept. 17, at the Ellis Davis Fieldhouse, 9191 S. Polk St., Dallas, TX 75232.
The college fair is free and provides many benefits to students and parents, including supporting the district's stated purpose to educate and graduate students ready for college and the workforce.
Important Information:
• To attend, contact your counselor.
• For information about the fair, call (972) 925-3505.
• Pre-registration deadline is Wednesday, Sept. 10.
• Transportation will be provided from all Dallas ISD high school campuses.