Submitted by the Student Activities department
Excitement about chess swept across Dallas ISD when, on two back-to-back Saturdays, nearly 3,000 students competed in the fall chess tournaments hosted by the Student Activities department.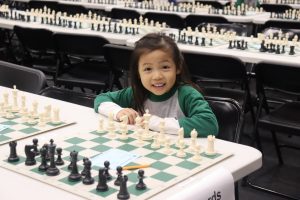 With the increased number of elementary and secondary students participating in the district's tournaments, Dallas ISD boasts the largest districtwide chess program and hosts the largest chess tournaments in North Texas, said Dennis Raveneau, Dallas ISD tournament director.
"Through playing chess, students learn to think critically, plan strategy, and execute a plan," Raveneau said. "In addition to strengthening cognitive skills, playing in chess tournaments promotes good sportsmanship and positive behavior while helping students to slow down and concentrate for greater periods of time."
After months of practice at their local campuses, students played multiple rounds of chess in the tournaments, paired with different opponents based on their wins and losses after each game. Different strategies were used to compete for a gold, silver, or bronze medal.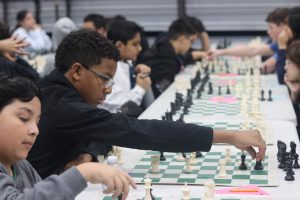 The elementary chess tournament involved students from kindergarten through fifth grade and was so large that it had to be split into two locations. Held on Nov. 4 at Thomas Jefferson High School and Barack Obama Male Leadership Academy, the elementary tournament kicked off the first of two Saturday tournaments with 2,101 young chess players.
At the end of the elementary tournament, 418 individual medals were awarded: 160 gold, 65 silver, and 193 bronze. Student Activities awarded team trophies to schools based on their performance by grade level.
Following the elementary tournament, 825 students in middle school and high school gathered at Obama Male Leadership Academy on Nov. 11 to demonstrate their strategic chess moves at the secondary chess tournament.
The secondary tournament resulted in awards of 359 individual medals: 88 gold, 20 silver, and 251 bronze. Based on their grade level, 25 individual team trophies were given to the top-scoring schools.
The spring chess tournaments for secondary and elementary are scheduled for next year on April 20 and May 11, respectively.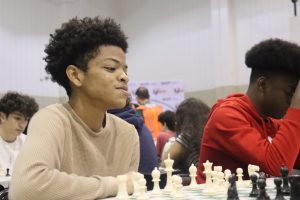 Overall team results for the elementary and the secondary tournaments are listed below:
K-2nd Team Results
· First Place –Mockingbird Elementary School, Thomas L. Marsalis Elementary STEAM Academy & Umphrey Lee Elementary School
· Second Place – Walnut Hill Elementary School, Arcadia Park Elementary School & Leslie A. Stemmons Elementary School
· Third Place – Alex Sanger Preparatory School, Ascher Silberstein Elementary School & Urban Park STEAM Academy
3rd Grade Team Results
· First Place – George Bannerman Dealey Montessori Academy & Mary McLeod Bethune Elementary School
· Second Place – Walnut Hill International Leadership Academy & Stemmons
· Third Place – Lakewood Elementary School & Rosemont Upper Campus School
4th Grade Team Results
· First Place – Sudie L. Williams Talented and Gifted Academy & Mary McLeod Bethune Elementary School
· Second Place – William B. Travis Academy/Vanguard for the Academically Talented and Gifted & Leslie A. Stemmons Elementary School
· Third Place – Downtown Montessori at Ida B. Wells Academy & Sylvia Mendez CREW Leadership Academy
5th Grade Team Results
· First Place – Lakewood Elementary School & School for the Talented and Gifted in Pleasant Grove
· Second Place – Downtown Montessori at Ida B. Wells Academy & J.N. Ervin Elementary School
· Third Place – Obadiah Knight Elementary School & Gabe P. Allen New Tech Academy
6th Grade Team Results
· First Place – Sudie L. Williams Talented and Gifted Academy
· Second Place – William B. Travis Academy/Vanguard for the Academically Talented and Gifted
· Third Place – Barack Obama Male Leadership Academy at A. Maceo Smith
· Fourth Place – Sam Tasby Middle School
· Fifth Place – School for the Talented and Gifted in Pleasant Grove
7th Grade Team Results
· First Place – William B. Travis Academy/Vanguard for the Academically Talented and Gifted
· Second Place – L.L. Hotchkiss Elementary School
· Third Place – Sudie L. Williams Talented and Gifted Academy
· Fourth Place – Dallas Environmental Science Academy
· Fifth Place – Rosemont Upper Campus School
8th Grade Team Results
· First Place – School for the Talented and Gifted in Pleasant Grove
· Second Place – Barack Obama Male Leadership Academy at A. Maceo Smith
· Third Place – Dallas Environmental Science Academy
· Fourth Place – Sudie L. Williams Talented and Gifted Academy
· Fifth Place – Henry W. Longfellow Career Exploration Academy
9th – 10th Grade Team Results
· First Place – School for the Talented and Gifted at Yvonne A. Ewell Townview Center
· Second Place – Dr. Wright L. Lassiter Jr. Early College High School at El Centro College
· Third Place – School of Science and Engineering at Yvonne A. Ewell Townview Center
· Fourth Place – New Tech High School at B.F. Darrell
· Fifth Place – Emmett J. Conrad High School
11th – 12th Grade Team Results
· First Place – School of Science and Engineering at Yvonne A. Ewell Townview Center
· Second Place – Judge Barefoot Sanders Law Magnet
· Third Place – Kathlyn Joy Gilliam Collegiate Academy
· Fourth Place – North Lake Early College High School
· Fifth Place – W.W. Samuell High School