Submitted by The Dallas Education Foundation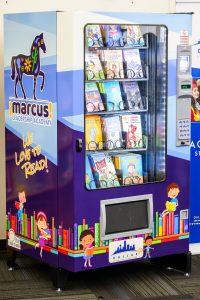 With its new book vending machine, every day is a book fair at Marcus Leadership Academy. The elementary school hosted a literacy event in September – sponsored by NEC Foundation of America (NECAM) with the support of the Dallas Education Foundation in partnership with Catch Up & Read (CAR) – to highlight the school's current and emerging programs that are accelerating academic outcomes for students.
"[Students] can have the experience of a book fair every single day at their fingertips. They can access a new book, a new experience, new learning," said Dallas ISD Chief of School Leadership Tiffany Huitt. "I want to say thank you and really express my sincere gratitude to NEC, to Catch Up & Read, and to the Dallas Education Foundation for giving this experience to our kids."
NECAM has been a significant partner at Marcus Leadership Academy over the years with a focus on advancing literacy, including a seven-year investment in Catch Up & Read, a nonprofit focused on transforming the lives of elementary students in Dallas ISD by equipping them to read on grade level by third grade.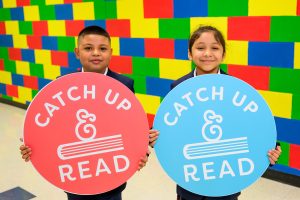 When the newest, fully stocked book vending machine was unveiled, students gasped. Instead of candy and soda, this machine held a wide array of books that they could select and keep for their personal home libraries. Fifth-grade student leaders were the first to "purchase" a title from the book vending machine using a token given to them by Principal Daniel Calvo. Students' faces lit up as they were presented with numerous titles from which to choose – in both Spanish and English. After selecting their books, the students made their way back to their seats and began reading together,  unprompted, with their friends and classmates.
"One of the primary ways to advance literacy is for our scholars to have access to culturally relevant and self-selected books in their homes," said Mita Havlick, executive director of the Dallas Education Foundation. "DEF is always seeking innovative ways to get the right books in the hands and homes of students. Our book vending machine initiative does just that. We are excited Marcus Leadership Academy was selected as a recipient of this gift, and we are deeply grateful to NEC Foundation for their continued support of Dallas ISD, Marcus Leadership Academy, and their commitment to literacy for all students."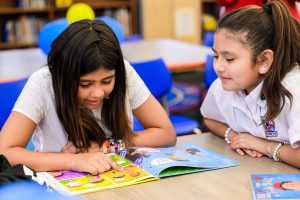 Next to the book vending machine and under a vibrant Dallas mural in the library, Principal Calvo said, "With this book vending machine, we can say, 'there isn't a mind on our campus that we did not inspire.'" 
Support the Dallas Education Foundation's goal of housing a book vending machine on every campus by donating to the Employee Giving Campaign now through Dec. 22. Together, we accelerate student success. Visit dallasedfound.org and follow @dallasedfound on Facebook, X, Instagram, LinkedIn, and YouTube.