The ability to perform calculations in one's head is an invaluable skill to have. STEM students from across Dallas ISD displayed this skill and more at the Texas Math and Science Coaches Association (TMSCA) Dallas ISD Invitational Meet on Oct. 7 at Conrad High School.
With 75 schools in attendance, more than 1,400 students in grades three through 12 competed in four TMSCA academic competitions: Number Sense, Calculator Applications, Math, and Science. Involvement in TMSCA invitational meets gives elementary and secondary students the opportunity to practice for UIL math and science contests through grade level and team competitions.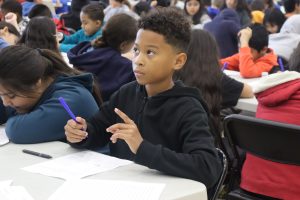 "TMSCA improves students' skills in standardized, timed testing and teaches them to work under pressure," Julie Majewski-Smith, TMSCA executive director, said. "Participation instills in students an increased sense of pride in academic achievement, teaches them to set goals for their achievements, and gives them a framework in which they can work to achieve those goals."
Sponsored by the Dallas ISD Student Activities Department, the Invitational Meet was the first TMSCA competition of the year for elementary and secondary STEM students. The participating schools were divided into six groups to accommodate the large number of students vying to rank in the top 10 places of each event.
Throughout the next several months, STEM students will be participating in online and in-person TMSCA invitational meets to prepare for state competitions held during the spring semester.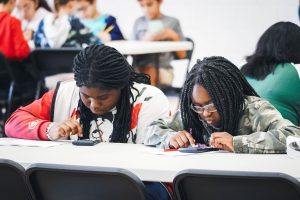 Dallas ISD Invitational Meet Results
Top Performing High Schools:
School for the Talented and Gifted at Yvonne A.

Ewell Townview Center

North Dallas High School

Judge Barefoot Sanders Law Magnet

W.H.

Adamson High School

Hillcrest High School

Dr. Wright L. Lassiter Jr. High School at El Centro College
Top Performing Middle Schools:
William B. Travis Academy/Vanguard for the Academically Talented and Gifted

Sudie L. Williams Talented and Gifted Academy

J.L.

Long Middle School
Top Performing Elementary Schools:
Rosemont Upper Campus

George Bannerman Dealey Montessori Academy

Alex Sanger Preparatory School

Jesus Moroles Expressive Arts Vanguard

Walnut Hill International Leadership Academy

Mockingbird Elementary School

Louise Wolff Kahn Elementary School
Arthur Kramer Elementary School
Stephen C. Foster Elementary School
Thomas L. Marsalis Elementary STEAM Academy
H.I. Holland Elementary School at Lisbon
Edwin J. Kiest Elementary School
Charles A. Gill Elementary School
Eddie Bernice Johnson STEM Academy
Rufus C. Burleson Elementary School
Felix G. Botello Personalized Learning Elementary School
George Herbert Walker Bush Elementary School
Downtown Montessori at Ida B. Wells Academy
David G. Burnet Elementary School
C.F.

Carr Elementary School

Harrell Budd Elementary School
Upcoming TMSCA Events:
Elementary Virtual State Meet: April 11, 2024
Middle School State Meet: April 13, 2024
High School State Meet: March 23, 2024