It's incredible to think a high school student would know the first steps in how to cook a five-star meal, design the world's tallest skyscraper, or save a human life. Technical careers require years of firsthand experience and the confidence to excel at a high-demand job. Career Institute North (CIN) is offering students the chance to receive the resources and training necessary to be considered "career-ready" after graduation. 
For the 2023-2024 school year, the institute opened its doors to students in grades nine through 12 so they can explore Career and Technical Education pathways. Equipped with state-of-the-art machinery, learning spaces, and tools, CIN also has a tornado shelter that can hold up to 800 people.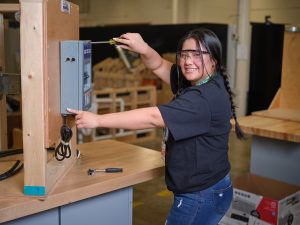 "Instructors bring real-world knowledge and instruction to each lesson, applying concepts to hands-on learning," said Dorothy Laswell, the director of Career Institute North. "Industry partners mentor students, providing guidance, work-based learning experiences, and internship opportunities."
Some may recognize the roof's adobe tiles and white facade, as CIN was originally the site of Walnut Hill Elementary School. The building was irreversibly damaged due to a tornado in 2019. Previously a 55,000 square-foot school, new construction added an additional 110,000 square feet. The reconstruction and renovation of the building was completed as part of Bond 2015.
Career Institute North currently serves five campuses: Conrad, Hillcrest, North Dallas, Thomas Jefferson, and W.T. White high schools. Students spend half a day every other day at CIN, where they're taught by industry leaders and can obtain a wide range of certifications and credentials that make them highly sought after by employers.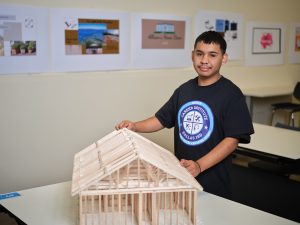 Apart from standing out in a competitive job market, the institute provides a unique, innovative approach to teaching compared to a traditional classroom, and students are on a structured path to success. Interested in learning about CIN and other career institutes in Dallas ISD? Visit dallasisd.org/careerinstitutes or contact careerinstitutes@dallasisd.org.
Current Career Institute programs:
Architecture and Interior Design

Automotive

Aviation

Construction and Carpentry

Cybersecurity

Dental Assistant

Electrical and Solar Technology

EMT

Game Design

HVAC

Mechatronics/ Advanced Manufacturing

Patient Care

Pharmacy Technician

Phlebotomy & EKG

Plumbing

Software Development

Welding