"At the moment, I'm excited, happy, and ready to make history." 
Jeremiah A., defensive back for Thomas Jefferson High School (TJ), steps onto the turf as he takes a moment to soak in the reconstructed, NFL-quality football field in front of him. 
He's ready to get a few wins in for the season, and after that his game plan includes going to college. "Hopefully I'll land at UTSA (The University of Texas at San Antonio) in the future."
After severe damage caused by an EF-3 tornado in 2019, the future was uncertain for all of TJ's student-athletes, but thanks to a $1 million donation by the Dallas Cowboys, the Gene and Jerry Jones Family Foundation, and the NFL Foundation, that future is looking brighter. 
On Tuesday, students and school community members gathered at a dedication ceremony for the field, completed by Hellas Construction, the official turf provider for the Cowboys.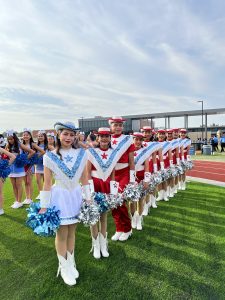 "I'm honored to stand here today to welcome our alumni, community, and leadership, as we dedicate this field to our community. I'm also very excited to celebrate the Dallas Cowboys FLAG-In-Schools initiative today, welcoming future Patriots from Walnut Hill International Leadership Academy," TJ Principal Benjamin Jones said. "As we move forward, we continue to open up more opportunities for the community to share this awesome facility with us."
In celebration of the campus addition, students from Walnut Hill International Leadership Academy (WHILA) played flag football with TJ football players and the Dallas Cowboys Rookie Club. Not only did students get to enjoy the day outside, they also went home with Oakley sunglasses, a Dallas Cowboys NFL FLAG T-shirt, courtesy of Blockchain.com, and snacks donated by Dairy MAX.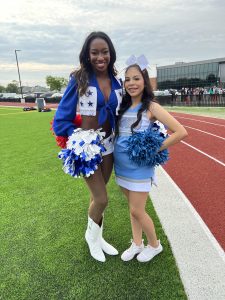 Over the next three years, Dallas ISD elementary schools will receive NFL program kits from the Dallas Cowboys, including footballs, flag belts, participation certificates, football curriculum and rules, as well as nutrition tips to support healthy, lifelong habits surrounding physical health.
More than just a new field, the donation symbolizes a beacon of hope so that students can continue to pursue their dreams and give back as leaders of their community. 
"We took something that was a tragedy and turned it into a triumph, and that's because everybody came together," said Superintendent Stephanie S. Elizalde. "I was the chief of schools when the tornado hit, and it was shocking what had been destroyed. But today, the entire community gets to see what everyone contributed."