For the second year in a row, the largest distributor of school supplies in Texas, TEXAS YES, hosted a school supply distribution event at several Dallas ISD campuses. This year, in partnership with prominent injury attorney and philanthropist Thomas J. Henry, Frederick Douglass Elementary School students and 29 additional schools received a "box of dreams." Each box contained free school supplies and essentials for elementary students in kindergarten through fifth grade including notebooks, writing utensils, tissues, and coloring supplies.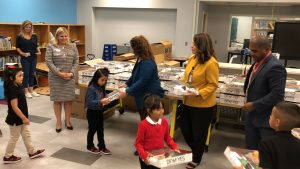 "Today is a day to celebrate our students and show that it takes a village to raise a child. We're grateful to partner with Texas Yes and help support our students have a very successful school year," Sherqueena Jackson, Frederick Douglas Elementary School Principal said. "It's just a testament to everyone in the community who believes in our students and who wants to see them succeed and help them be successful in life."
To date, the "Box of Dreams" program has distributed more than half a million kits in an effort to provide kids with what they need throughout the school year and help combat rising inflation prices. TEXAS YES is non-profit organization built on the idea that by providing students with quality supplies and resources in the classroom they can help them achieve long term academic success. 
"The program is a tremendous benefit to those families that might not be able to purchase supplies and students were so excited to receive their own supply box.  We are grateful to TEXAS YES for their generous support.  Community engagement and partnerships are key to the success of our students," Tonya Mayberry Davis, Partnership And Volunteer Services coordinator said.
School supplies, clear backpacks, transportation funds, jackets, gift cards, uniforms, volunteers and student/teacher incentives are needed year-round. If you or your company are interested in supporting school needs, please contact partners@dallasisd.org. To donate to the TEXAS YES Project and learn more about the program, visit texasyesproject.org/box-of-dreams/.
Schools that received Box of Dreams kits:
Jack Lowe Sr. Elementary School

José "Joe" MayElementary School
Leonides Gonzalez Cigarroa, M.D.Elementary School
C.A. Tatum Jr. Elementary School

John Neely Bryan Elementary School

Jill Stone Elementary School at Vickery Meadow

Julian T. Salidvar Elementary School

David G. Burnet Elementary School

Edward Titche Elementary School

H.I. Holland Elementary School at Lisbon

John F. Peeler Elementary School

Otto M. Fridia Elementary School

Frederick Douglass Elementary School

Frank Guzick Elementary School

Oran M. Roberts Elementary School

Charles Rice Learning Center

H.S. Thompson Elementary School

Bayles Elementary School

Eladio R. Martinez Learning Center

C.F. Carr Elementary School

Cedar Crest Elementary School

George W. Truett Elementary School

Gabe P. Allen Learning Center

Lorenzo De Zavala Elementary School

Paul L. Dunbar Learning Center

William Brown Miller Elementary School

Nancy J. Cochran Elementary School

Stevens Park Elementary School

Ronald Erwin McNair Elementary School

Daniel Webster Elementary School