While many seniors decide to soak in every moment of their summer by going on vacation or hanging out with friends, Steven S. decided to spend the summer before his senior year  making progress toward his career through an internship with the City of Dallas. 
Steven participates in the Career and Technical Education program at Career Institute South, where he's following the Electrical Construction career path. During his internship with the City of Dallas, Steven has been learning to read electrical plans with the city's licensed and certified electrical plan reviewers. He has also had the opportunity to go on ride-alongs with electrical inspectors and work in the Permit Center, where he is learning about the permitting process.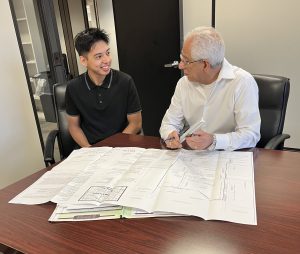 "Being able to go to inspections and seeing firsthand everything that electrical inspectors do and what they have to review has been my favorite part; the field training is my favorite part," Steven said. 
The internship has allowed Steven to learn how to communicate with team members across different departments, absorb a few things from the electrical code book, and hear tips from the experienced electricians at the City of Dallas.
"Spending time with people who are in this career and listening to what they have accomplished so far makes me look forward to a career path in electrical construction," said Steven, who will be a senior this fall at Justin F. Kimball High School.
He has earned his OSHA 10 and OSHA 30 certifications as well as his electrical certification, and is hoping to complete one more before he graduates in the spring. After graduation, he hopes to attend a trade school or earn a degree in electrical engineering.
Dallas ISD's Career Institutes provide students access to training and career programs that may not be available on their home campus. The Career Institutes deliver a series of manageable courses, projects, and experiential learning opportunities that lead to successful completion of internships, industry certifications, and credentials.  Each field of opportunity qualifies students to enter a high-demand career and earn a living wage after graduation.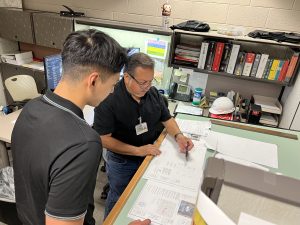 Steven's advice to fellow students who are thinking about entering one of the programs: "It seems like a lot of work, but if you take your time and put in the effort, you will enjoy it. Trades are a great career path to take. Make sure to participate in internship programs because they are very rewarding and you get the experience of working in a professional environment, which is a great experience, especially if you haven't had a job yet." 
Expressing gratitude for his electrical and solar technology instructor, Jim Green, Steven said, "I am very thankful for Mr. Green. He helped me figure out what I wanted to do. He encouraged me to learn more about it after hearing his experiences as an electrician and the variety of different career paths that are available as an electrician."
Learn more about Dallas ISD career institutes: https://www.dallasisd.org/careerinstitutes.