The use of artificial intelligence chatbots in education has been a hot topic in news headlines and at school board meetings across the United States. Participating in the 5th Annual Parrish Charitable Foundation Invitation, Dallas ISD students recently joined the discussion as they participated in the Debate Chamber at Old Parkland Complex.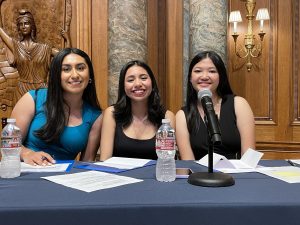 Through a partnership with entrepreneur Roland G. Parrish and the Dallas Urban Debate Alliance, the six high school students debated the motion: "This House opposes the use of AI Chatbots in educational settings." For Parrish, debating skills are necessary and purposeful in today's workforce because he believes it helps young people develop their public speaking and critical thinking skills.
Six Dallas ISD debaters received $3,000 each for a total of $18,000 in scholarship funds. To date, the Parrish Charitable Foundation has awarded $81,000 in scholarships to Dallas ISD student debaters. "Through the years, public debate has provided students the opportunity to showcase their persuasive skills before a live audience and a panel of judges," said Cindi Timmons, executive director of the Dallas Urban Debate Alliance.
"The students researched and created evidence-based arguments on both sides of the timely motion, discussing the merits of using AI chatbots in schools," Timmons said. "Their balanced approach to the debate showed all in attendance that it is possible to have civil conversations over timely and challenging topics."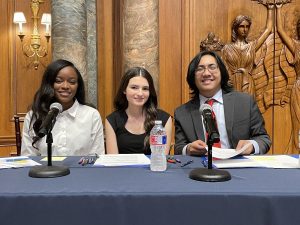 Participating Debaters
Ari Arceo, Judge Barefoot Sanders Law Magnet – Junior
Emyah Cox, Irma Rangel Young Women's Leadership School – Senior
Ashley Cruz, Sunset High School – Sophomore
Avery Devenport, School for the Talented and Gifted – Sophomore
Sarallyn Medrano, North Lake Early College High School – Junior
Christie Vo, North Lake Early College High School –  Junior