Students from 104 schools were able to showcase their chess skills while competing against their peers at the first-ever multi-location elementary chess tournament, held at Thomas Jefferson High School and Barack Obama Male Leadership Academy.
Almost 1,600 you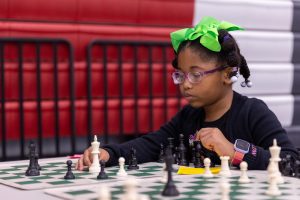 ng chess players from grades kindergarten to fifth– grade participated in three rounds of chess. The students were a mix of experienced and new players, with some showing off their advanced chess skills, while others were just learning the game. The atmosphere was electric as the young players competed in hopes of winning top prizes.
Overall, there were 159 individual gold medal winners, 88 individual silver medal winners, and 509 individual bronze medal winners, with gold medals awarded to players who won all of their chess matches. Additionally, each school selected and announced their chess MVP (Most Valuable Player) of the year.
"This was the best tournament ever!" said an excited and emotional Steven Gonzalez through tears, after being announced the MVP winner from Walnut Hill International Leadership Academy. "I played against really good players and won!" 
Team standings can be found in the chart below. 
Thomas Jefferson High School Team Standings
Grade 
Place
School

Grade K-1

1

st

Alex Sanger Preparatory School

Grade K-1

2

nd

Prestonwood Montessori at E.D. Walker

Grade K-1

3

rd

Downtown Montessori at Ida B. Wells

 

 

 

Grade 2

1

st

Mockingbird Elementary School

Grade 2

2

nd

Prestonwood Montessori at E.D. Walker

Grade 2

3

rd

George B. Dealey Montessori Academy

 

 

 

Grade 3

1

st

Harry C. Withers Elementary School

Grade 3

2

nd

George B. Dealey Montessori Academy

Grade 3

3

rd

Prestonwood Montessori at E.D. Walker

 

 

 

Grade 4

1

st

Lakewood Elementary School

Grade 4

2

nd

Obadiah Knight Elementary School

Grade 4

3

rd

K.B. Polk

Center

for Academically Talented & Gifted

Grade 4

3

rd

Rosemont Elementary School

 

 

 

Grade 5

1

st

Sudie L. Williams TAG Academy

Grade 5

2

nd

Harry C. Withers Elementary School

Grade 5

3

rd

Alex Sanger Preparatory School

 
Barack Obama Male Leadership Academy Team Standings
Grade 
Place
School

Grade K-1

1

st

Leslie A. Stemmons Elementary School

Grade K-1

2

nd

Dr.

Barbara Jordan

Elementary School

Grade K-1

3

rd

Felix Botello Elementary School

Grade K-1

3

rd

Urban Park Elementary School

 

 

 

Grade 2

1

st

Elisha M. Pease Elementary School

Grade 2

2

nd

Winnetka Elementary School

Grade 2

3

rd

Leslie A. Stemmons Elementary School

Grade 2

3

rd

H.I.

Holland

Elementary School at Lisbon

 

 

 

Grade 3

1

st

Thomas L. Marsalis Elementary School

Grade 3

2

nd

Arturo Salazar Elementary School

Grade 3

3

rd

George Peabody Elementary School

 

 

 

Grade 4

1

st

Margaret B. Henderson Elementary School

Grade 4

2

nd

School for the Talented and Gifted

in Pleasant Grove

Grade 4

3

rd

Adelfa B. Callejo Elementary School

Grade 4

3

rd

George Peabody Elementary School

 

 

 

Grade 5

1

st

Mary M. Bethune Elementary School

Grade 5

2

nd

Maria Moreno STEAM Academy

Grade 5

3

rd

School for the Talented and Gifted

in Pleasant Grove