Christine Hernandez, a fifth-grade math teacher at Solar Preparatory School for Girls at James B. Bonham, defines student success as being rooted "not only in academic success but also in becoming a confident individual, however that may look."
One of her students started the school year with learning gaps that left her feeling like she could not speak up in class, so Hernandez worked with her family and other teachers to help the student honor her strengths and change her mindset to, "How much can we grow this year?" rather than being on grade level.
"When we started framing it that way, she just hustled," Hernandez said. "I have not seen a student work as hard as her. Every day, she comes into class, and she is on it. She is advocating for herself when she's not understanding something, and she is holding people accountable at her table, making sure they're all on task. She has completely transformed into this amazing leader, who now walks into the classroom and feels really confident."
As Solar Prep for Girl's 2022-2023 Campus Teacher of the Year, Hernandez incorporates that definition of success into everything she does in and out of the classroom.
"The learning will come, and it will come much more naturally when your students feel safe and welcomed and heard, and when they feel a sense of belonging in your room," she said.
Hernandez said she is proud to work alongside a team of incredible educators. They all have pushed her to grow and reach new heights as a teacher, inspiring her to take on leadership roles such as orchestrating the school's daily Sisterhood Circles—morning pep rallies that set the tone for the day and highlight exceptional women in the community.
"Christine not only is an amazing teacher, but she is also a teacher leader," fellow teacher Alicia Pompa said. "She supports her team and others by overtaking Sisterhood Circle, one of the biggest culture building projects at the school. She listens when you have problems and maintains a positive energy even on rainy days."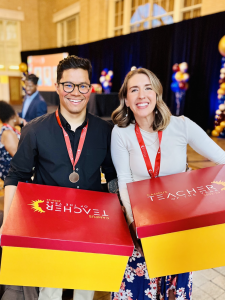 But for Hernandez, it all comes back to leaders supporting leaders.
"My biggest takeaway in my journey so far is that there are some amazing people around me, especially at this campus," Hernandez said. "Everything that I have become is deeply, deeply because of them. Their teaching and character inspire me. It's hard to be in a building like this and not level up yourself, because you see a lot of greatness around you every day when you walk in."
Hernandez said she is grateful for the opportunities she has had to accelerate learning and transform student lives alongside her team members and her husband, Angel Hernandez, a fifth-grade teacher at Solar Preparatory School for Boys at John F. Kennedy Learning Center, who also earned the distinction of Campus Teacher of the Year.
"I really do love my school, and I love the way my students think," Hernandez said. "They're so creative. The sky is the limit for them, and they're the coolest people to work with every day. You can't not be excited about learning when you're around them."