Congratulations to CityLab High School for participating in and advancing a team to the "Speak Up Speak Out" state competition, which will be held on March 6 in Austin. After identifying a problem in the Dallas community and presenting their solution to judges in January, the advancing team will move to the next part of the competition and continue developing their idea with a chance to win seed money.
CityLab is located in an urban area in downtown Dallas and the advancing team's project is titled "What We Do With Trash." The team noticed that the beauty of downtown is often obscured by the trash and debris that occur from being in an urban area, especially an area with a high population of unhoused individuals. The team's project provides ideas for addressing this issue.
Advancing team members include:
Brian Villareal
Deontae' Hardman-Smith
Victoria Montoya
Xavyer Walker
Ms. Jennifer Sayed
The theme that students will be designing for this year is "Innovative Ideas for Perpetuating Problems," meaning that students dissect community issues by taking knowledge from our current strengths, experiences and technology to find new solutions that are sustainable and promote lasting change. Speak Up Speak Out started in 2002 as part of the Moody College of Communication at the University of Texas at Austin for third-through-twelfth grades.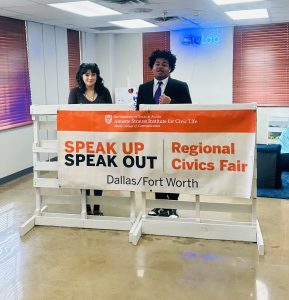 The program is centered around civic education and turns young learners into storytellers through four focal points: group dynamics, problem-solving skills, research skills, and storytelling. Working together in small groups over the course of the fall semester, students research and identify a community problem that they solve using their diverse backgrounds and talents. According to their site, Speak Up Speak Out gives students the opportunity to learn how to become active citizens and to become storytellers to share their message with community leaders.
"Speak Up Speak Out helped me realize I have to do more than just talk. I have to do something to make the change I want to see," said Laila, a CityLab High School student.
To learn more about the competition, visit the Speak Up Speak Out website or contact Shirley Steele at shsteele@dallasisd.org to discuss next year's competition.