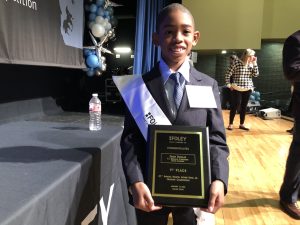 ¡Felicidades a Zihair Douglas, estudiante de 5to grado de Thomas L Marsalis Elementary School, por ganar la 31a competencia anual de oratoria MLK Jr!
________________________________________________________________________________________
Ocho estudiantes de cuarto y quinto grado avanzarán a la ronda final de la 31.a competencia anual de oratoria MLK Jr. de Dallas ISD, copatrocinada por Foley & Lardner LLP. El evento tendrá lugar el viernes, 13 de enero, a las 11 a.m. en W.H. Adamson High School.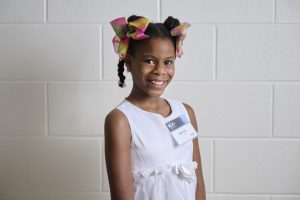 En conmemoración del legado del Dr. Martin Luther King, Jr., la competencia de oratoria fue diseñada para destacar la diversidad cultural y el talento de la comunidad de Dallas y para reconocer y alentar la escritura y oratoria de los estudiantes de primaria. El evento, presentado y patrocinado por Foley, invita a estudiantes locales a desarrollar discursos originales de tres a cinco minutos sobre el siguiente tema: ¿Qué nos diría el Dr. King hoy sobre la esperanza para el futuro?
Los estudiantes que avanzan a la ronda final son:
Adrián Rojas, 5.

o

grado, Arturo Salazar Elementary

Kennedy Smith, 4.

o

grado, Charles Rice Learning Center

Zaleeia Brown, 5.

o

grado, Clara Oliver Elementary

Mohammad Mohammad, 5.

o

grado, Elisha M. Pease Elementary

Bria Hider, 5.

o

grado, J.P. Starks Math, Science and Technology Vanguard

Zihair Douglas, 5.

o

grado, T.L. Marsalis Elementary STEAM Academy

Daniella Mitchell, 5.

o

grado, Thomas Tolbert Elementary

Ella Atkins, 5.

o

grado, Walnut Hill International Leadership Academy
La competencia comenzó en noviembre con rondas clasificatorias virtuales que fueron juzgadas por representantes de Foley. Durante las semifinales presenciales del 6 de diciembre, ocho finalistas fueron elegidos para avanzar a la competencia final. Los jueces se basaron en los criterios de presentación, presencia escénica, decoro, interpretación de contenido y memorización. Los finalistas recibirán un premio monetario, una placa de participación y otros regalos.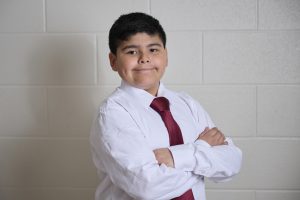 Este evento se originó en Dallas en 1993 y tuvo tanto éxito que llevó a que se creara uno similar en Houston en 1997 y en Chicago en 2020. Los ganadores y participantes del pasado han dado discursos en numerosas organizaciones locales y nacionales, incluyendo en la House of Blues para el Día de Martin Luther King, Jr. También han aparecido en programas televisivos locales y nacionales, incluyendo The Early Show en CBS, Fox 26 News, Oprah, Good Morning America, The Today Show y The Ellen Degeneres Show.