For more than ten years, Somyung Kim worked in the financial industry, excelling at her job and enjoying it. But all the while she knew that something was missing.
Kim had grown up in Daegu, South Korea, as older sister to one brother in a large and close extended family. She attended college there, but as a self-described "fearless college student," she decided after her sophomore year to "come to America to explore."  An economics major, Kim secured an internship in Florida with a leading hotel chain.  Later, she studied in Georgia on an exchange program before graduating from her home college and becoming a teacher. It was then that she found her calling, teaching foreign language – in this case English – to high school students. But after three years, a permanent move to America to get married led her away from teaching and into the business world.
"Teaching was something I missed forever," Kim said, although she found good jobs in the financial industry where she worked for about 13 years. Of her last position, at a large auto financing company, she says, "I loved it there. Luckily I was in a position where I had to train people, teach people, lead people. I really enjoyed it, but I always felt that something was missing. I missed teaching a foreign language to high school students."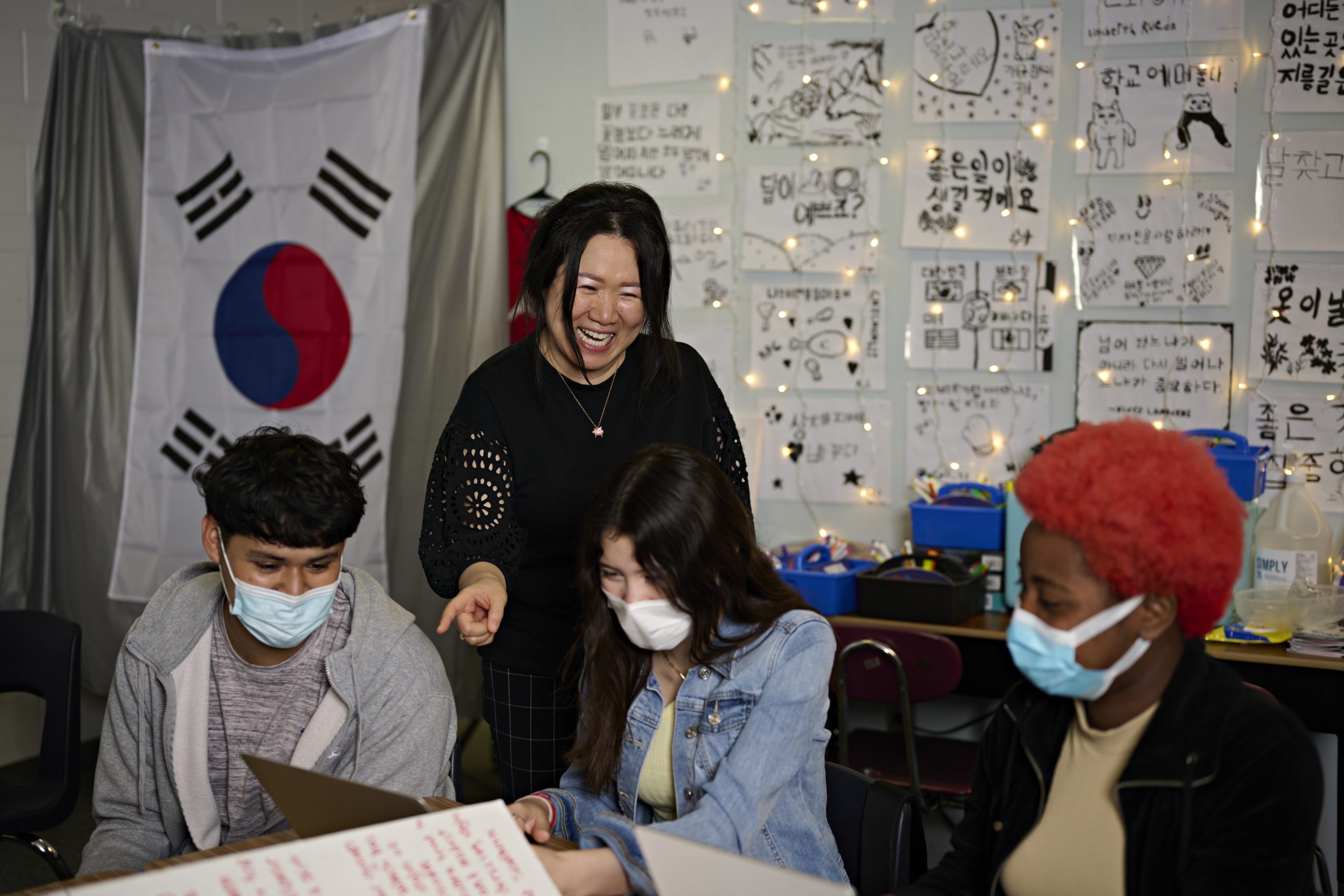 A better alternative     
Unable to shake that feeling, about three years ago Kim began to volunteer as a teacher at a Korean school near her home while still working in finance. In that role she attended meetings, events and educational workshops, eventually learning of an opportunity to be hired as a foreign language teacher through Dallas ISD's Alternative Teacher Certification program.
"I interviewed with Dallas ISD, and my [current]principal extended an offer. He wanted to hire me right away. It felt like a miracle – that it could happen after I'd been longing for the opportunity for so long, thinking in the back of my mind, 'Oh, I wish I could do that again.'
"I think my principal appreciated all I'd done in my career – working in the financial industry for more than 10 years. I had a lot of experience to share with my students. I'm a Korean teacher who is from South Korea, but I have so much practical experience that I can share with students wanting to do their best in life."
Now, Kim is in the last month of her first school year teaching at the School of Business and Management at Townview.
Enthusiasm is an understatement when describing Kim, who says, "I really like the students here at Townview! They are very respectful and highly motivated to care about their lives and their academic accomplishments. I also like the fact that I can teach all the students from the six different Townview schools. They have different strengths and weaknesses, and I'm enjoying learning all about that."
More than the language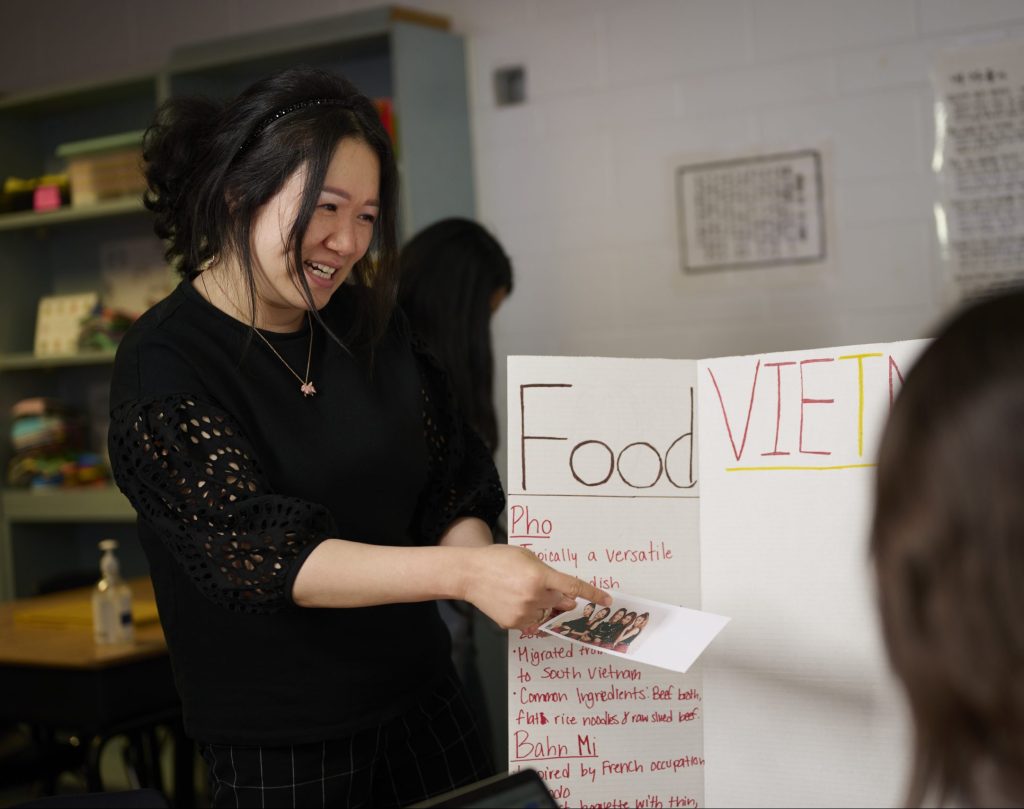 While her focus is on teaching Korean, Kim sees her role as an opportunity to share more than the language. "I share Korean art, music, history, culture, food. I'm not trying to limit my teaching to just the language. Language doesn't come by itself. Students have to learn about the culture to be able to learn the language. So I try to introduce as much as possible. Food is one of the things they get really excited about. It's part of sharing the culture."
Music is another interest for Kim, who says she played the piano growing up and got to the point where "I could have majored in it. I make all the connections – between language and music and business. They are not separate. I always try to motivate students by helping them understand those connections."
For Asian American and Pacific Islander Heritage month, Kim had her students design traditional Korean masks with craft materials she brought from her homeland. "I show them some of the Korean artwork and they interpret it as their own. They've created Korean masks that look like Spanish, American, all the cultures combined, which is so cool. We are displaying those to share the experience with all the schools at Townview."
Diversity is important to Kim, the mother of two boys, 8 and 11, described by their mom as "a mix of everything. They are half Korean, 25% Italian, 25% British. They sometimes joke, that, 'I have 3% of Switzerland!' They love being diverse."
Her boys attend elementary school and go to Korean school every week. "They are learning Tae-Kwan do, Korean martial arts. I observe them in class and I'm  interested in learning that myself. I think it will be good to share with my students as well."
She and her family visit South Korea every year, something she'll have more time for now as a teacher rather than a business employee.  And now she'll be seeing her homeland through the eyes of a teacher as well as a former resident. "It's a society of constant change – every year, something new. They keep changing and improving things. I want to figure out how teaching about that change can be helpful academically to motivate my students. I'm very excited about that."