Dallas ISD is proud to be home to outstanding neighborhood schools like Winnetka Elementary. Discover more about our neighborhood campuses at the Discover Neighborhood Schools events on April 23. Learn more here.
For Winnetka Elementary Principal Dr. Lourdes Garduno, the extracurricular activity Competitive Robotics is an equalizer that provides powerful STEM-oriented experiences and opportunities to all students across the district, regardless of their zip code or family's socioeconomic income.
Located in North Oak Cliff, Winnetka is a neighborhood elementary campus with a Talented and Gifted program. At Winnetka, 90% of the student population comes from low-income households. The campus supports a student body that is 98% Hispanic, and 55% of its students are considered English learners.
Since Winnetka adopted the robotics program in 2016, the school has assembled two nationally acclaimed teams: the original boys-and-girls 224X and the all-girls 224G, which was developed in 2019 after 224X had too many devoted members. Together, both teams have won awards at every state competition, earned two prizes at national championships and shone on the international stage four times by placing as finalists or being awarded special recognition at the VEX Robotics World Competition.
Robotics serves as an early introduction to engineering and mechanics and to building and programming, but it goes far beyond that, Garduno said. The teams come up with their own designs before competitions and perfect their robots to perform tasks effectively and seamlessly. During championships, students practice teamwork and often face high-intensity situations where they have to troubleshoot under pressure. As part of their overall score, they have to successfully explain their design in writing and also put together a presentation for the judges.
"They take these skills into their life, inside and outside the classroom, and that is one of the reasons why we continue to support this program," Garduno said. "All students – regardless of socioeconomic income or where they live – deserve these experiences that get them prepared for future careers. Beyond an extracurricular club, robotics is a push for equity that provides all students an opportunity to advance in the areas of science, engineering and math. We're building that foundation for future engineers."
Unforeseen Benefits
Seven years ago, Competitive Robotics was only an idea that was floating around the school. When Garduno mentioned the idea of opening a club to Jeremy Williams, Winnetka's Gifted and Talented teacher, he volunteered without hesitation to spearhead the project. Since then, he's noticed a pattern in the students that participate in robotics: Their overall scores go up.
"Robotics puts all of the curriculum and so much subject matter into it," Williams said. "I pulled a student out of class today for a robotics-related matter and his teacher told me 'have him keep doing what he's doing, because he was struggling and now he's doing remarkably well.' This is far from the first time that I heard something like this."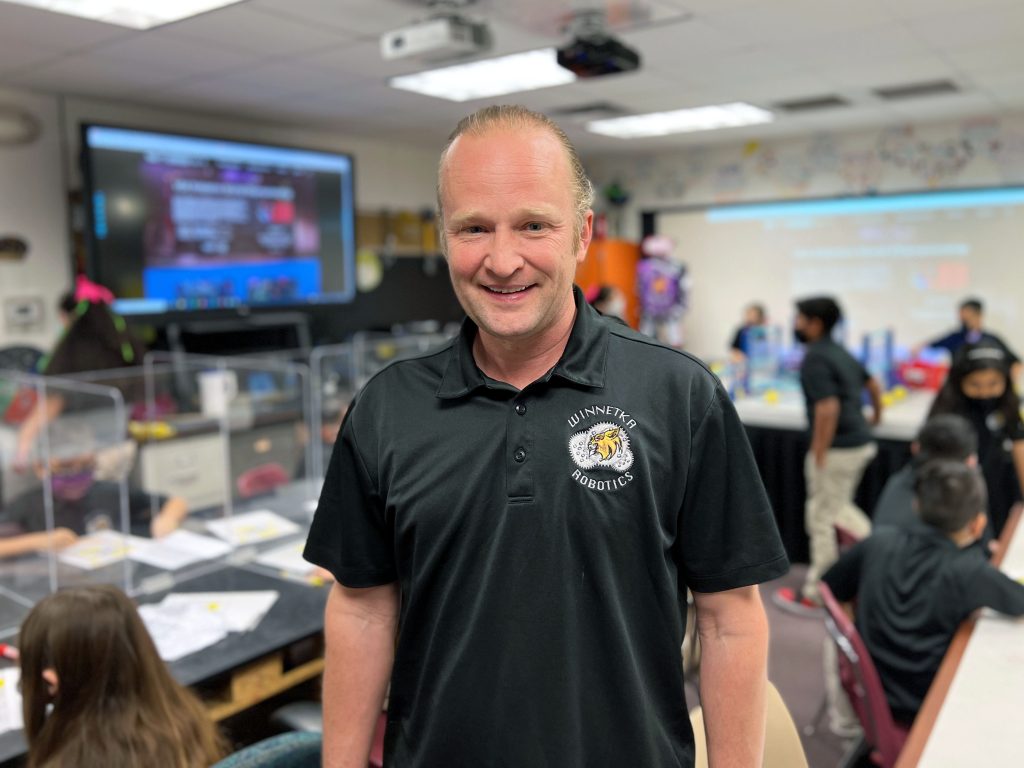 Students from second through fifth grade meet after school for Competitive Robotics every Wednesday and Thursday, from 3:20 p.m. to 4:30 p.m., but sometimes stay as late as 5:30 p.m., Williams said. In his classroom, some members of 224G and 224X design robots and routes on paper. Others work on their Chromebooks coding commands. And the most experienced classmates practice driving the robot and perfecting the tasks that they'll have to perform at the competitions.
"Based on data from previous years, we check these kids out and their scores improve, their self-esteem improves," Williams said. "They're learning STEM, and more than STEM. They have to talk before judges and pair up with contestants they don't know, and who sometimes don't even speak the same language as them. They're learning writing and they're having to read and conduct research. It takes all these things, and then it's also fun! Once the brain clicks, it begins clicking in other areas."
Besides inspiring students to learn, Competitive Robotics has inspired parent involvement. Winnetka students often travel to compete out of state. And while the Dallas ISD STEM Department covers all travel costs for the students, the parents have created a Booster Club to keep up with the expenses and to treat their daughters and sons to Winnetka robotics-inspired uniforms.
Fifth-grade student Abigail Segovia is the daughter of the Winnetka Robotics Booster Club president. Abigail's interest in robotics was sparked when her older sister, who is currently in eighth grade, joined the robotics club four years ago. Going to competitions with her parents to support her sister and seeing the camaraderie among students inspired Abigail to join the club while in second grade.
"When I started in second grade, they let me do the beginner tasks," Abigail said. "In third grade, I learned how to build robots. In fourth grade, I learned how to program. And now in fifth grade, I'm one of the drivers. The longer you stay, the more you learn and the more you get to do. And even when you're only helping with the small tasks, you're part of a team and you feel included. At this point, my team is like my family."