We have a winner! Tristan Whitfield, a fifth grader at Paul L. Dunbar Learning Center, claimed first place Friday in Dallas ISD's 30th annual Martin Luther King Jr. Oratory Competition.
Tristan and seven other fourth and fifth graders competed in the finals of the competition, which is co-sponsored each year by the law firm Foley & Lardner LLP and the school district.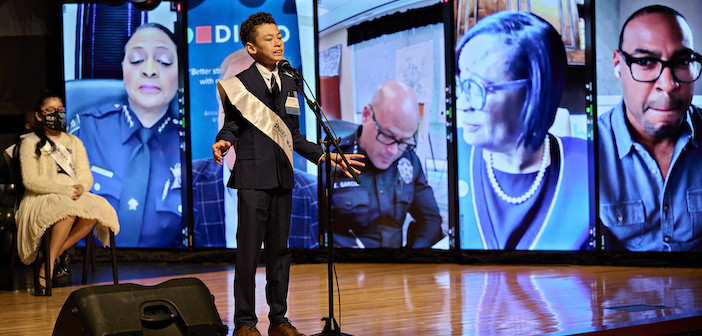 Jaliaha Rodgers, a fifth grader at J.P. Starks Math, Science, and Technology Vanguard, captured second place this year, and Arianna Garcia, a fifth grader at L.L. Hotchkiss Elementary School, claimed third. The student winners, and all the participants, will receive cash awards and gifts, with amounts doubled by an anonymous donor who stepped up online during the competition to make the offer.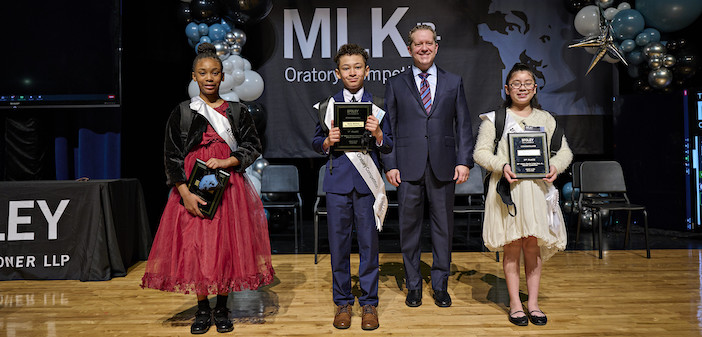 Other finalists in the competition, were:
Zihair Douglas, 4th grade, T.L. Marsalis Elementary School,
Daniella Goffney-Mitchell, 4th grade, Thomas Tolbert Elementary School,
Kiyan Harrison, 4th grade, Jack Lowe Sr. Elementary School,
Diamond McKinney, 5th grade, Clara Oliver Elementary School, and
Chance Taylor, 5th grade, Charles Rice Learning Center.
Friday's event was the highlight of a monthslong process in which dozens of students at 23 district schools participated by writing, memorizing and reciting their original essays on the topic: "How would Dr. King assess our progress in achieving his vision for America."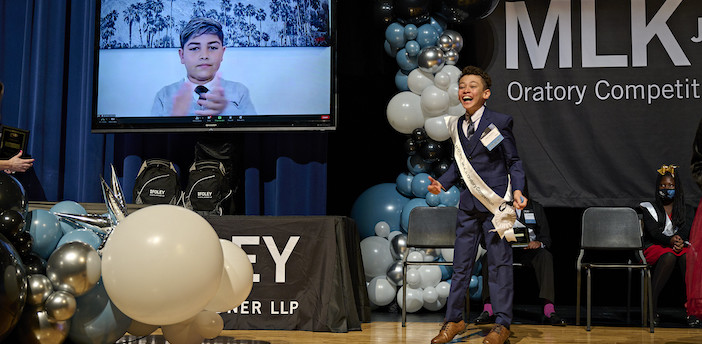 The competition, which started as a small event 30 years ago with a handful of students from a few Dallas schools, has grown into a signature MLK event in the nation, said Michael Newman, managing partner of Foley & Lardner's Dallas office, who hosted the competition on stage before a limited audience at Adamson High.
For the second year, the event was streamed virtually, with the bulk of the audience viewing online due to the ongoing pandemic. Fox news anchor Clarice Tinsley participated remotely as mistress of ceremonies, as did a VIP panel of judges, including: Dallas County Sheriff Marian Brown; Highland Park ISD Trustee Jay Ellis, a former Foley Lardner lawyer; Dallas Chief of Police Eddie Garcia; Dallas Mavericks CEO Cynt Marshall; and Super Bowl champion and former Dallas Cowboy Darren Woodson.