Marian Jones, a Lakewood Elementary crossing guard, greets every student and many parents by name as they walk through the busy intersection of Sondra Drive and Hillbrook Street.
Jones is just one example of a team of crossing guards and volunteers with a deeply ingrained sense of community that goes beyond ensuring the safe arrival and departure of Lakewood Elementary scholars.
"Some people, you don't know what they're going through," Jones said. "I try to make them feel good and keep hope alive and inspire them. Whatever you're going through, from the house to here, it's going to be OK. That's why I like to learn the children's name, to let them know that they're special and they are somebody. It's something I enjoy doing because kids have bad days as well, and I want them to have a good day when they walk into their school."
She's been working in Lakewood Elementary since 2008. In 2015, Jones learned that she needed a kidney transplant. She struggled with kidney failure for four years, going to dialysis three times a week. Jones continued showing up to work every day, despite her health struggles, and didn't tell many people about what she was facing.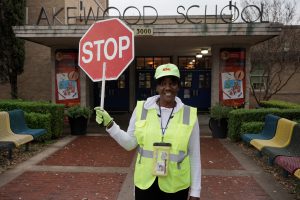 "When people found out, many parents volunteered to take me to dialysis on Tuesdays, Thursdays and Saturdays and pick me up, and many times they'd even bring a snack or lunch for me. After work, they'd follow me home and take me," Jones said. "Sometimes the heat was unbearable, but I still came to work. And when the parents saw that, they'd take my vest and my sign and take over for me and help me out."
In 2019, Jones received a kidney. Going on 13 years, she continues to bring smiles to Lakewood Elementary children every morning and afternoon.
It takes a village
Rose Mosco directs traffic on the opposite intersection of Lakewood Elementary. Mosco has only worked at the East Dallas campus for a year and a half, but has been a crossing guard for over 14 years.
Mosco previously worked at Walmart full time and was looking to do a different job that would allow her to spend time with her children. She applied to become a crossing guard and started working at César Chávez Learning Center, then quickly realized that she was going to be there for the long haul.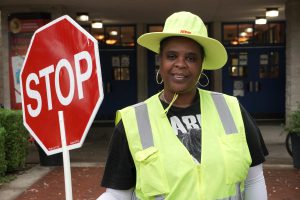 "You know how you do something and you think you're only going to be there for a certain amount of time? Then, time passes and you don't even realize that you stayed," Mosco said. "Being a crossing guard came as something for me to do while my kids were in elementary school. Then I kept doing it through middle school, and then high school. I like doing this because I see kids smile every day. It's easy to love a job like that."
G.P. Theriot, a former Woodrow Wilson High School graduate and Lakewood scholar, assisted Mosco with directing traffic across the street. He's the president of Friends Of Lakewood, a group of Lakewood Elementary dads who raise funds for school-related causes and volunteer at the campus every week.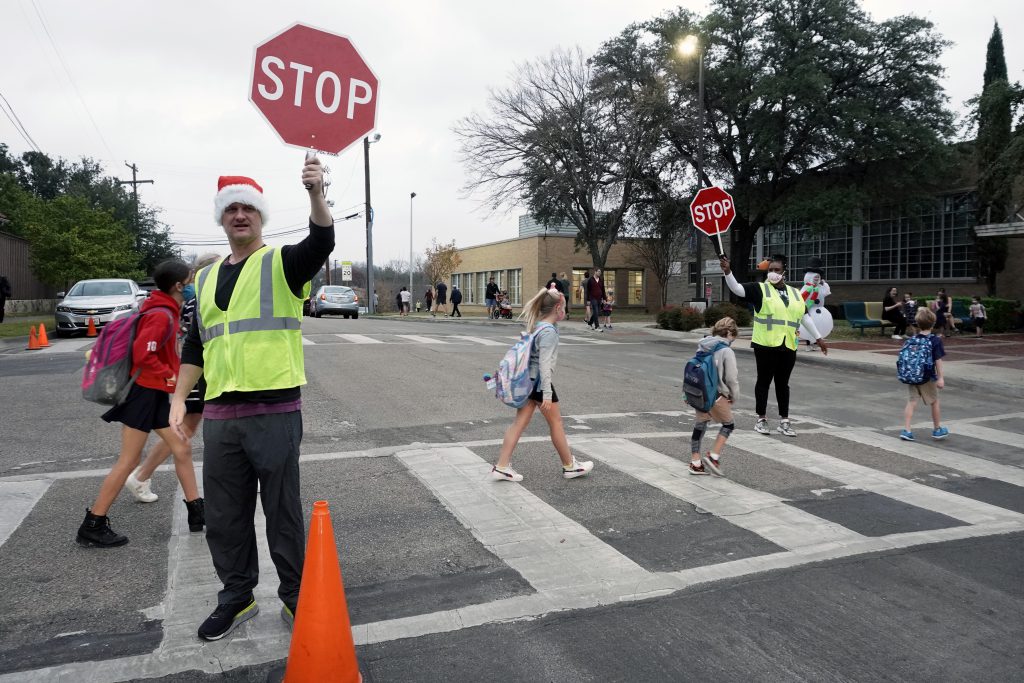 "It's a great way to start my Friday morning, seeing the kids' faces and helping them start off their day," he said. "I look forward to it every Friday!"