This past weekend, 22 schools competed in the Districtwide Online Academic Decathlon Meet. Of those participating campuses, School of Science and Engineering and School for the Talented & Gifted received the highest team points in their respective divisions: medium and small.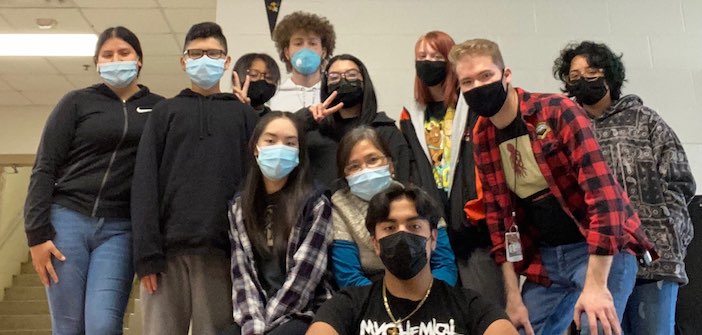 With the theme Water: A Most Essential Resource, more than 200 secondary students were tested in several areas including music, art, literature, math, economics, and social science. The top 15 students in each division will receive gold medals. (See top schools' scores and gold medalist winners in the charts below.)
All schools participating in the Dallas ISD Academic Decathlon program will advance to the Region XII competition, which is scheduled for January 28-29.
The United States Academic Decathlon program is designed to include students from all academic backgrounds. At the regional competition, each nine-member team will consist of three Honor students, three Scholastic students and three Varsity students. In addition to a seven-minute interview, an essay and two speeches, written comprehensive exams are given in music, art, literature, mathematics, economics, social science, and the Super Quiz.
DISTRICTWIDE ONLINE ACADEMIC DECATHLON RESULTS
| | |
| --- | --- |
| TOP FIVE MEDIUM SCHOOLS | SCORES |
| SEM | 18,940 |
| HILLCREST | 18,545 |
| HEALTH | 15,644 |
| ADAMS | 13,747 |
| OBAMA | 13,727 |
| | |
| --- | --- |
| TOP FIVE SMALL SCHOOLS | SCORES |
| TAG | 20,697 |
| LASSITER | 15,024 |
| RANGEL | 14,743 |
| BUSINESS | 14,119 |
| LAW | 13,650 |
| | |
| --- | --- |
| GOLD MEDALIST WINNERS | MEDIUM SCHOOLS |
| Tarun Mohan | SEM |
| Satvik Paduri | SEM |
| Samuel Silter-Hays | SEM |
| Suhani Singh | SEM |
| Isamel Arpero | Hillcrest |
| Maggie Mitchell | Hillcrest |
| Clay Stuckey | SEM |
| Bryce Shores | Hillcrest |
| Roman Meek | Hillcrest |
| Jodie Hunt | Hillcrest |
| Claire Dusek | Hillcrest |
| Saiya Palmer | Hillcrest |
| Malcolm Cronjaeger | Adams |
| Daisy Sanchez-Calderon | Health |
| Naomi Hillyer | Hillcrest |
| | |
| --- | --- |
| GOLD MEDALIST WINNERS | SMALL SCHOOLS |
| Tvisha Garg | TAG |
| Leo Li | TAG |
| Walter Straughn | TAG |
| Daniela Cedillo Ornelas | TAG |
| Paige Hounsel | TAG |
| Aileen Moseley | TAG |
| Jackson Wooton | TAG |
| Jack Chrismon | TAG |
| Karina Caballero | TAG |
| Abigail Roberts | TAG |
| Wendy Ruiz | Gilliam |
| Graciela Diaz | Rangel |
| Alondra Rosas | Lassiter |
| Seydel Calderon | Business |
| Naomi Murrieta | Lassiter |
The 22 schools advancing to the Regional Academic Decathlon are:
Bryan Adams high School
Adamson High Shcool
Townview Health
Hillcrest High School
Molina HIgh School
Obama Male Leadership Academy
Samuell High School
Science and Engineering Magnet
Spruce High School
Sunset High SChool
Townview Busienss
Carter High School
CityLab High School
Gilliam
Lassiter Early College High School
Townview Law
Lincoln High School
Madison High School
North Dallas High School
Irma Rangel Young Women's Leadership School
School for the Talented and Gfited
Wilmer-Hutchins High School