Students across Dallas ISD are receiving a powerful social and emotional learning (SEL) tool simply through a box. 
Dallas ISD's Social and Emotional Learning Department and Counseling Services Department are proud to partner with Tacky Box to provide students with a tool to help with the skills associated with social and emotional learning like kindness, empathy, compassion, and conflict-resolution that will benefit them in the classroom, home, and their communities. 
Tacky Box was invented in January 2013 by Emma Phelps, a kindergartner at Lakewood Elementary, when she uttered a four-letter word to her mom. This 'tacky' language led Emma's mom, Chris Phelps, to create a tool to help her children become more aware of their words and behavior. 
Knowing parents and educators face the issue of tacky words and behavior, Chris and her mom, Cindy Kent, partnered up to share the idea that worked so well for Emma and her younger brother Jake. 
Tacky Box went on to pilot their program in 2015 through the support of Atmos Energy and has impacted tens of thousands of students from kindergarten through third grade since.
Before the COVID-19 pandemic, The Dallas Children's Theater captivated students through a show performed at school assemblies. For now, those assemblies have stopped due to the pandemic, but that hasn't stopped Chris Phelps from continuing to share this valuable tool with schools.
"There has been tremendous loss in social and emotional learning skills in students due to the stress of the pandemic," said Phelps. "Now is more important than ever to get Tacky Boxes into the hands of students."
So Tacky Box made a pivot, instead of school assemblies with a performance they now equip schools with a storybook titled "Max's Magnificent Choice" with an available pre-recorded read-aloud from Rock-T, from the Rickey Smiley Morning Radio Show.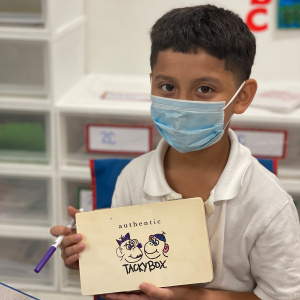 Tacky Box is a great tool for younger students because it is a multi-sensory tool that disrupts the thought process that can result in negative behavior and instills a sense of pride in children for choosing kindness. Over time, children begin to self-monitor their words and behavior. The result is a cleared space from name-calling, tattle tailing, and internalization. 
"SEL skill development is ongoing and doesn't live in isolation of a lesson or event," shared Juany Veldespino-Gaytan, Executive Director of Dallas ISD's Social and Emotional Learning Department.  "The lesson behind Tacky Box and the boxes themselves are a great way to practice self-awareness and self-management to recognize and block negative words out of the heart and minds of our students. This tool is a very tactile and intentional approach to helping students practice and develop SEL skills throughout the day, every day."
"Elementary counselors are grateful and excited about the Tacky Box Collaboration with school and SEL staff to bring this tangible tool for kindness to life for young students," explains Sherri Vault, Counseling Coordinator in Dallas ISD's Counseling Services Department.
 A special thanks to various sponsors including the Wallace Foundation through the Partnership for SEL Initiative grant, Karen Hartman,  Atmos Energy, and Campaign for Kindness who helped to sponsor Tacky Boxes for 80 Dallas ISD elementary campuses for pre-k- first grade students as a way of supporting the district's #BeKind21 efforts.
Learn more about Tacky Box at www.tackybox.com.
Learn more about Dallas ISD's Social and Emotional Learning Department at www.dallasisd.org/sel and the Counseling Services Department at www.dallasisd.org/counselingservices.