When the world changed in the spring of 2020—and before mask-wearing became the trend—Girisha Siddappa sprang into action. He redirected his company, Fashion for Globe, Dallas based Fashion Tech Platform working with Fashion brands providing services from Design to manufacturing high-quality textiles and clothing, to immediately pivot and start making high-quality, comfortable cotton face masks, complete with insertable filters. The timing was critical as it was proven that mask-wearing limited the spread of COVID-19.
Last week, he and his wife, Preeti, donated 3,500 face masks to Dallas ISD to be distributed to students, with many sized to fit younger kids. "As the face masks are reusable, they help protect people and the environment," says Girisha.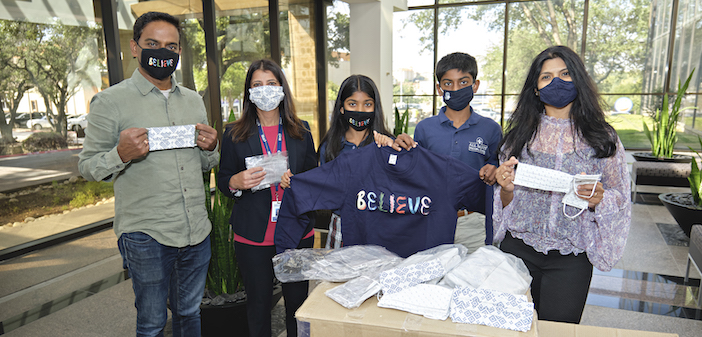 In addition to the donation of face masks, the Siddappas' two children, Ishan and Priyal, decided they wanted to give as well. They initiated a project over the summer to design and sell the "BELIEVE" sweatshirt, and they donated the proceeds to the Dallas Education Foundation. (Click here to support the sweatshirt project that benefits Dallas ISD schools and students.)
When asked why they picked the "BELIEVE" theme, Ishan, a seventh-grader at All Saints Episcopal School in Fort Worth, said, "We took on this challenge to give people hope that things would go back to normal. These sweatshirts provide much-needed comfort, and it was a way to express our creativity." He and his sister Priyal, a fifth-grader, say they are looking forward to finding more ways to support Dallas ISD and the Dallas Education Foundation in the near future.
The social mission of Fashion for Globe is to support local families. We are thankful they chose the students of Dallas ISD and the Dallas Education Foundation.