El Departamento de Aprendizaje Socioemocional de Dallas ISD realizó el simposio virtual para líderes estudiantiles este mes. Varias secundarias y preparatorias de todo el distrito participaron con un total de 295 miembros del personal y estudiantes.
Entre los temas que se trataron estuvieron la escuela, la identidad y la voz. Los últimos tres semestres provocaron múltiples desafíos para los estudiantes, entre ellos, aislamiento debido a la pandemia e injusticias raciales. El simposio dio a los estudiantes un espacio seguro para procesar sus pensamientos y les dio la oportunidad de hacerse escuchar y encabezar un cambio positivo en sus comunidades.
Los estudiantes fueron seleccionados por líderes escolares de aprendizaje socioemocional. Las escuelas con coordinadores de AVID escogieron a un estudiante de su grupo y las escuelas con la African American Success Initiative también invitaron a estudiantes líderes.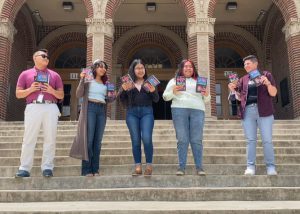 Cada estudiante recibió un ejemplar de This Book is Anti-Racist: 20 Lessons on How to Wake Up, Take Action, and Do the Work por Tiffany Jewel, y uncuaderno. El libro fue seleccionado para conectar el aprendizaje socioemocional con la equidad y además, los estudiantes examinaron cómo usar su identidad, su voz y su participación en la escuela para crear ambientes en que todos se sientan libres de ser quienes son y sepan que siempre serán aceptados.
El personal recibió muchas críticas favorables de los estudiantes y espera con ansias proveer más recursos y apoyo en todo Dallas ISD.
Citas de estudiantes durante el simposio
"Me gustó que por fin pude hacerme escuchar. Hace un año que no se me ha escuchado". – Estudiante de 8o grado.
"Este simposio me motivó a defender lo pienso que es correcto". – Estudiante de 11o grado.
"Me encantó que tuvimos la oportunidad de tener conversaciones con muchas personas temen tener". – Estudiante de 10o grado.
El equipo de aprendizaje socioemocional está contento de poder realizar simposios el próximo año y promover la voz de los estudiantes en las escuelas. Comunícate con Aileen Mokuria, gerente de capacitación profesional de Aprendizaje Socioemocional, si deseas formar parte. amokuria@dallasisd.org