As we prepare for the upcoming 2021-2022 school year, we want everyone to be healthy and safe when we return to all in-person instruction. This summer, Dallas ISD and Parkland Hospital are hosting several pop-up COVID-19 vaccine sites for individuals ages 12 years and up.
Schools that opted into the program will offer service to both students and members of the community. Parkland staff will administer the Pfizer-BioNTech COVID-19 shot, beginning the week of June 28 for the administration of the first shot, and will return the week of July 19 for the second dose.
All minors must receive parental consent. Click here to access the required Parkland Hospital consent form, and click here to access the required Dallas ISD consent form.
All interested students and staff should also complete the pre-registration link available here.
While many have become more comfortable with relaxed protocols, we encourage everyone to become fully vaccinated.
Anyone who is vaccinated at Conrad High School on Tuesday, June 29, will receive a free pass to Six Flags Over Texas!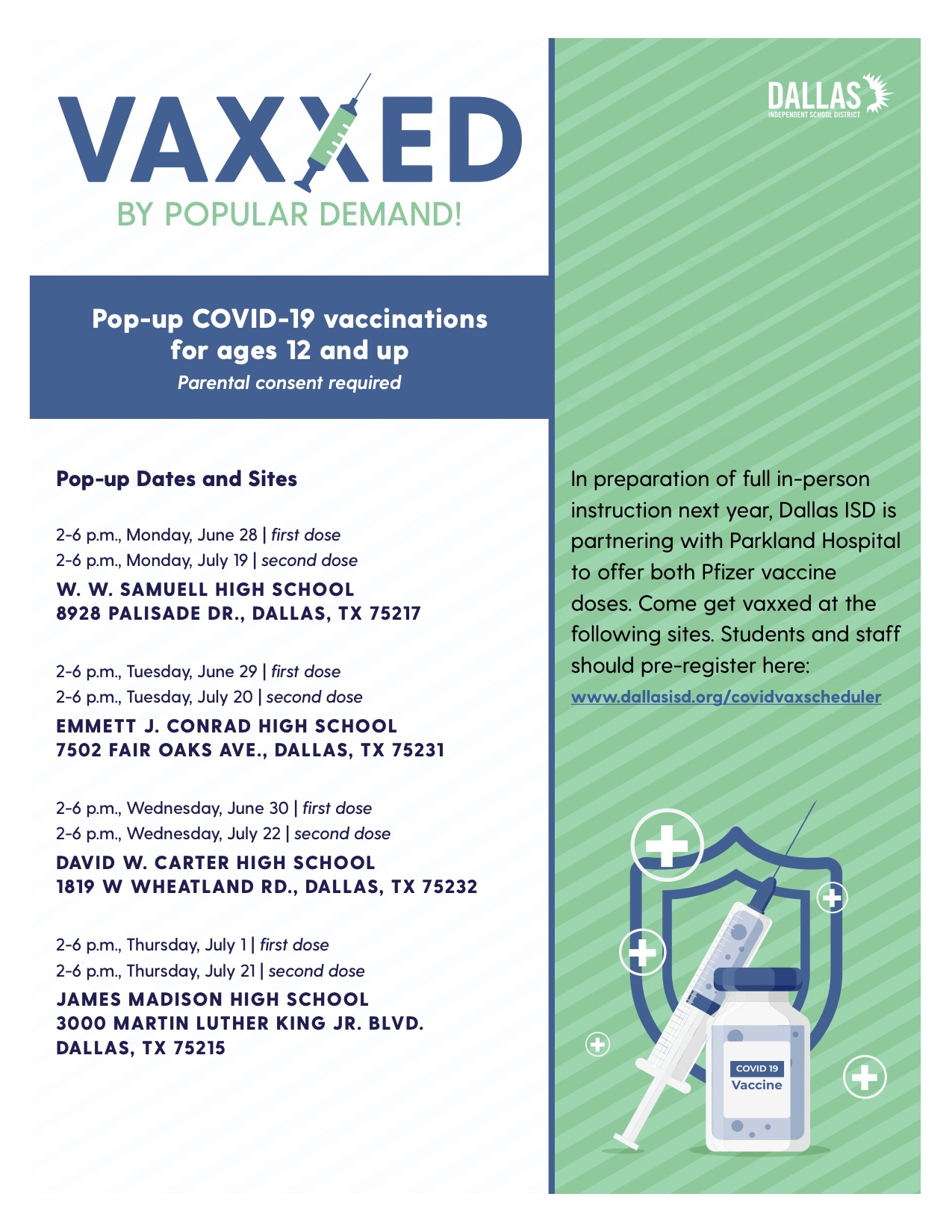 Below are the times, dates, and locations of each participating school.
| | | | | | |
| --- | --- | --- | --- | --- | --- |
| Campus | Address | 1st Vaccination Date | Time | 2nd Vaccination Date | Time |
| W. W. Samuell High School | 8928 Palisade Dr., Dallas, TX 75217 | Monday, June 28 | 2-6 p.m. | Monday, July 19 | 2-6 p.m. |
| Emmett J. Conrad High School | 7502 Fair Oaks Ave., Dallas, TX 75231 | Tuesday, June 29 | 2-6 p.m. | Tuesday, July 20 | 2-6 p.m. |
| David W. Carter High School | 1819 W Wheatland Rd., Dallas, TX 75232 | Wednesday, June 30 | 2-6 p.m. | Wednesday, July 22 | 2-6 p.m. |
| James Madison High School | 3000 Martin Luther King Jr Blvd., Dallas, TX 75215 | Thursday, July 1 | 2-6 p.m. | Thursday, July 21 | 2- 6 p.m. |