Dallas ISD's Social and Emotional Learning Department hosted the Student Leadership Summit Virtual Symposium earlier this month. Middle schools and high schools from across the district participated in the summit with a total of 295 staff and students.
Summit session topics included school, identity and voice. The past three semesters have brought students a multitude of challenges to students, from isolation due to the pandemic to racial injustices. The summit gave students a safe space to process their thoughts as well as empower students to use their voices and lead positive change in their communities.
Students were selected by Campus SEL Champions. Campuses with Avid Coordinators picked one student from their group and campuses with the African American Success Initiative also invited student leaders.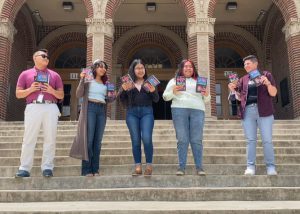 Every participating student received a copy of "This Book Is Anti-Racist: 20 Lessons on How to Wake Up, Take Action, and Do The Work" by Tiffany Jewel as well as a journal. The book was selected in efforts to connect SEL to Equity as students examined how to use their identity, voice, and involvement at school to create environments where everyone can feel free to be their true self and know they belong no matter what.
Staff received a great deal of positive feedback from students and look forward to providing more resources and support to students across Dallas ISD.
Student Highlights from the Summit
"I liked the fact that I'm finally able to make my voice heard I have not had it heard since last year." – Student, 8th-grade
"The Student Leadership Summit really motivated me to stand up for what's right." – Student, 11th-grade.
"I loved how we got the chance to have conversations a lot of people are afraid to have." – Student, 10th grade
The SEL team is excited to continue to host student leadership summits next year and promote student voice on campuses. Please contact Aileen Mokuria, SEL PD manager, if you would like to be involved next year. amokuria@dallasisd.org