One of the goals of the Dallas ISD Bilingual/ESL Department is to provide parents/guardians, the foundations, skills and tools to develop their confidence in the English language and to support their children academically at home.
For that reason, the department offers English as a Second Language (ESL) classes to parents who have recently arrived in the United States and enrolled their children in Dallas ISD.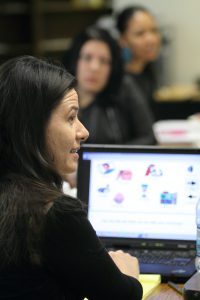 Parents who have joined the ESL virtual classes have seen results and benefits that will undoubtedly help them in their daily lives.
"I'm learning English for my sons, to be able to communicate better and support them," said Carmen Castillo, mother of Edwin and Clark. "I would love to keep studying to become a teacher's assistant. I want to show my kids that it's never too late to reach our dreams and our goals."
Aleksei Vykhodsev is originally from Moscow and had the opportunity to move to Dallas with his family. He said that learning English will increase his chances to get a job, participate in discussions, improve his networking skills and support his kids academically at home.
And Ana Isabel Ortiz said, "Every day I try to practice by having conversations in English to improve my fluency and pronunciation." "My family and I are very proud of what I have learned at ESL classes. My English is not perfect, but I will never give up."
The free program helps parents acquire the language skills that will help them communicate better, leading them to better job opportunities and a higher engagement in their children's education.
Parent ESL classes are designed to provide:
Literacy skills
Tools to develop confidence in the English Language
Ways to support your children academically at home
"The Bilingual ESL Department offers parents of English learners virtual ESL classes in an effort to help them learn and practice their English fluency," said Adriana Lopez, Dallas ISD's Bilingual ESL parent supervisor. "This year, the success of the program has been amazing, with a 100% increase in participation since our classes went virtual during the pandemic."
For more information visit: www.dallasisd.org/duallanguage.