Dallas ISD is one of six school communities across the nation that is a part of the Partnership for Social and Emotional Learning Initiative (PSELI), an initiative funded by The Wallace Foundation.
A new podcast series from The Wallace Foundation shares findings and early lessons from a RAND Corporation study of PSELI. The five-episode series features in-depth conversations with school, district, afterschool and out-of-school time leaders about their experiences working together to help children develop social and emotional skills.
PSELI is a comprehensive, multi-year initiative to explore whether and how children can benefit from intentional partnerships between schools and afterschool/out-of-school time programs focused on building social and emotional skills.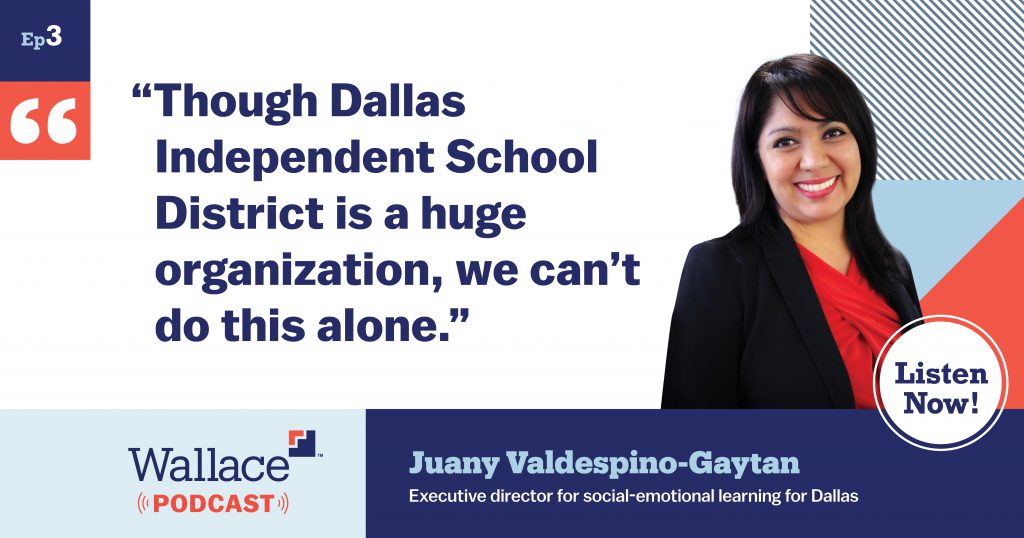 Episodes in the series focus on:
The importance of social and emotional learning and the initiative's design
Developing adults' capacity to promote social and emotional learning in students
Building effective partnerships between schools and afterschool/out-of-school time programs
The role of designated coaches in promoting social and emotional learning
Steps to integrate social and emotional learning across in- and out-of- school settings
Listen here: https://bit.ly/2ZDqT1Q
More on SEL Dallas
In 2017, Dallas ISD and Big Thought were awarded a social and emotional learning implementation grant from the Wallace Foundation. Together with key partners Dallas Afterschool and City Of Dallas Parks & Recreation, SEL practices are being implemented both in-school and out-of-school, with the long-term goal of sharing our resources and learning citywide. This collective is known as SEL Dallas.