Héctor Samuel Castro Ortiz has always wanted to express himself through his work, and that's what he's learning to do at Career Institute (CI) North.
He's a freshman at Conrad High School and is enrolled in the Construction and Carpentry pathway, one of several programs offered by Dallas ISD's career institutes.
The district manages three career institutes, each linked to a traditional Dallas ISD high school. These campuses offer specific courses in different career pathways such as cyber-security, aviation, HVAC, and construction and welding. Students who attend a career institute can earn professional experience and certifications throughout their high school career, along with their high school diploma.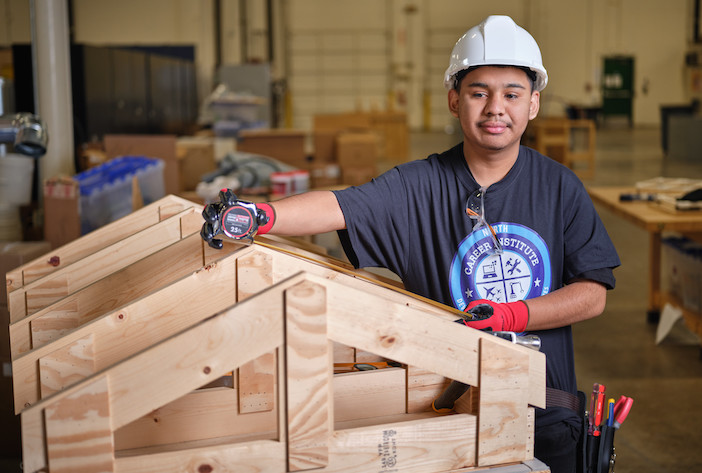 Castro Ortiz has a passion for drawing and drafting and wants to study architecture. He joined the Construction and Carpentry pathway at CI North to learn about the tools and equipment and safety measures at construction sites.
"I became interested in carpentry when I realized that it's pretty much a form of art," Castro Ortiz said. "I know that what I'm learning right now is going to help me get ahead."
He learned about CI North last year, when his Tasby Middle School counselor asked him about the high school classes he was interested in. All three career institutes are currently accepting students who will be incoming 9th-grade students in the 2021-2022 school year. All current 8th-graders can apply online to a career institute, or express their interest to their school counselor.
Castro Ortiz' mom, Imelda Ortiz Hernandez, recalls how her son learned to draw and color before he was able to read or write. She's happy that her son is taking advantage of the opportunities that Dallas ISD offers in order to accomplish his goals.
"As a mother, I am very happy that my son is looking forward to graduating and to follow his dreams," she said. "He was only raised by his grandparents and I, and seeing how he's grown and knowing that he's walking on the right path makes us very proud. As long as he puts in the effort, we will support him in any way we can."