As the application season for the 2021 – 2022 school year opens, Dallas ISD launched a centralized, user-friendly application system.
The enrollment period for applying to Dallas ISD schools launched Saturday and is open until Sunday, Jan. 31.
What changed?
"We received a lot of feedback that (the system we were using) wasn't friendly to parents, that there were too many processes, that parents had to go to a lot of different places to get things done for transferring or applying to a magnet school or to a choice school," said Brian Lusk, Dallas ISD chief of strategic initiatives. "We have worked really hard to improve that process and centralize it all in one place."
In previous years, the application forms varied depending on what programs the students applied for. The new system is fully online and serves as a one-stop shop for exploring and enrolling students into a Dallas ISD campus. It allows parents to apply to five schools – choice schools and neighborhood schools – through a single online form.
"This year, it is all in one system for parents to see," said Angie Gaylord, Dallas ISD deputy chief of transformation and innovation. "That's about 20,000 applications that we get every year that are normally in multiple systems that are now going to be in one system for all parents to see."
Monthly events for the different programs
Dallas ISD is organizing several interactive and informative online workshops before the application closes. Principals and administrators will provide first-hand information about the district's various programs.
"There will be multiple opportunities for parents to connect, so we do think that while this does create challenges for all of us, it also creates an opportunity for us to understand how to better communicate with parents in a virtual setting," Lusk said. "And that might be, in the post-pandemic future, another opportunity to connect with parents and have multiple opportunities to understand all the great options in Dallas ISD."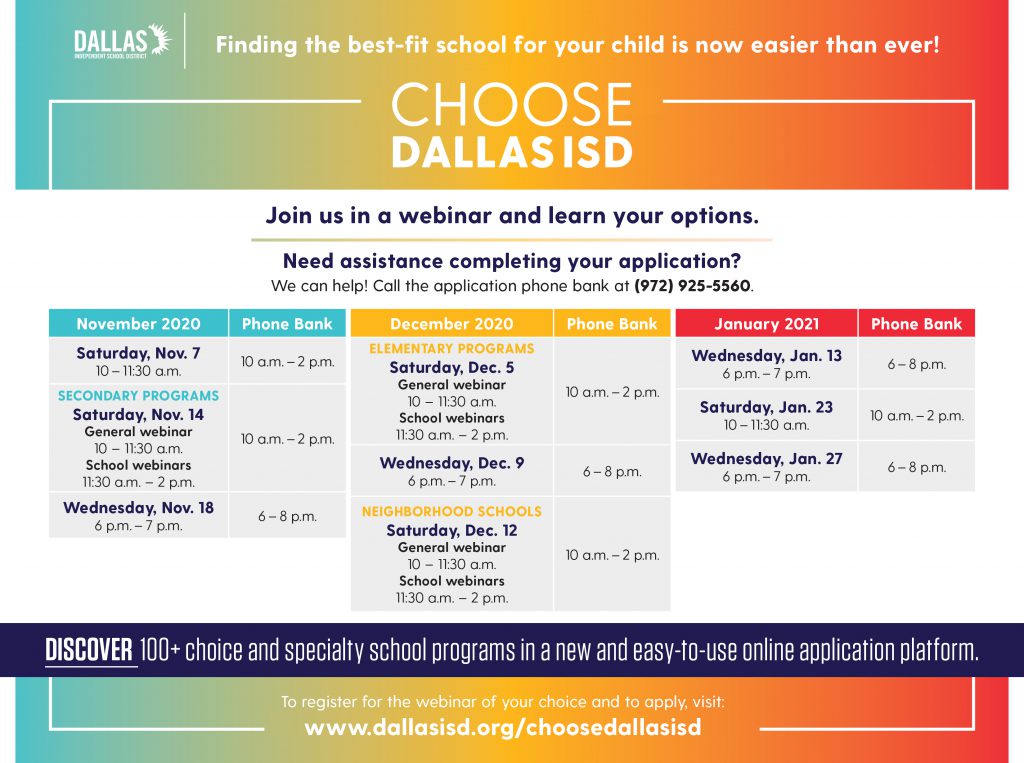 Working with the Racial Equity Office
Dallas ISD has identified 2,705 Black and English Learner students who meet the criteria to apply to the various magnet programs. The families of these students – 1,596 who are currently in 5th grade and 1,109 in 8th grade – will be targeted with recruiting efforts, said Keisha Crowder-Davis, executive director of Centralized Enrollment and Magnet Programs.
The district has also trained 27 mentors (who are from the feeder patterns of the schools that are targeted) who are working with counselors and with community liaisons to identify students and provide an extra hand to help them through the application process.
What should parents know before applying?
School choice timeline: The application window opened on Nov. 7 and will close on Jan. 31.
Families have five choices for schools, whether they are neighborhood schools or choice schools. Families should rank their choices from top to bottom depending on where they want their student to attend. Out of the five choices, only two can be magnet schools. That way, the students don't have to take more than two admission assessments.
The new system is mobile-friendly and available in various languages. Parents can upload documents into the system, as opposed to having to bring documents to the school. A "Parent Dashboard" allows families to see the progress of their application.
Beginning on March 1, parents will receive emails or text messages notifying where the student was accepted. Parents will have 10 days to notify the schools if they will accept the seat.
Parents who need assistance filling the application can call (972) 925-5560.