La chef Juanita Mejía, especialista en el Departamento de Servicios de Alimentos y Nutrición Infantil de Dallas ISD, tiene el placer de capacitar a los trabajadores de la cafetería para que sirvan comida deliciosa con una atención impecable a los estudiantes y al personal. Mejía aprovecha al máximo sus más de 20 años de experiencia culinaria para enseñar al personal a ser más eficiente en la cocina, seguir recetas y preparar comida deliciosa y apetecible.
Mejía goza de un gran respeto de parte del personal de la cafetería gracias a su increíble capacidad de formar una relación personal con cada uno de ellos.
"Siempre me inculcaron tratar a todos como me gustaría que me trataran a mí, y ser atenta con los demás", dijo Mejía.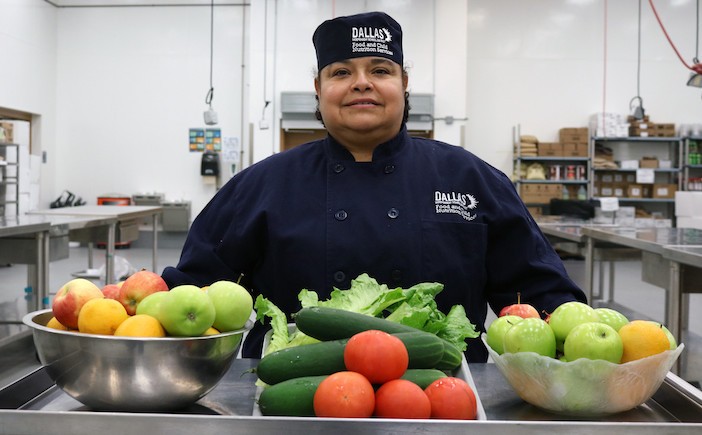 Además, Mejía a menudo representa a su departamento en degustaciones, ferias comunitarias y otros eventos donde interactúa directamente con los estudiantes y padres. Le encanta aconsejar a los padres sobre cómo cocinar comida saludable y fácil de preparar a buen precio.
"Dios me ha bendecido con las habilidades y la experiencia para ayudar a los demás", dijo Mejía. "En Dallas ISD, somos una gran comunidad donde nos ayudamos a ser la mejor versión de nosotros mismos".
Mejía es estadounidense de segunda generación de origen mexicano. Nació en Butte, Montana, y creció en Chicago, Illinois, donde se formó como chef en The Cooking and Hospitality Institute of Chicago. Como esposa, madre y abuela consentidora, sabe que la comida tiene el poder de reunir a la familia.
"La comida y las recetas son parte de mi vida", señaló. "El sabor y el aroma de los platos exquisitos hacen venir a la mente celebraciones, seres queridos y recuerdos que apreciamos. La comida es la parte esencial de lo que nos une a todos".