Providing broadband Internet connectivity to all Dallas ISD families is a social justice issue that must be addressed, Superintendent Michael Hinojosa said at a May 4 news briefing.
Dallas ranks number six in the country–and number one in Texas– of urban cities with families without fixed Internet access. And with the COVID-19 crisis making Internet connectivity necessary for everything from applying for jobs and seeing a doctor via telemedicine to taking class online or receiving important news, Hinojosa said he is personally invested in finding ways to ensure all Dallas families have access to broadband Internet service.
"Having broadband Internet is not a luxury, it is a necessity," he said.
Hinojosa has been in talks with local, state and national civic and business leaders about this initiative he has named "Operation Connectivity." Saying that a vision is a dream with a deadline, he laid out these next steps: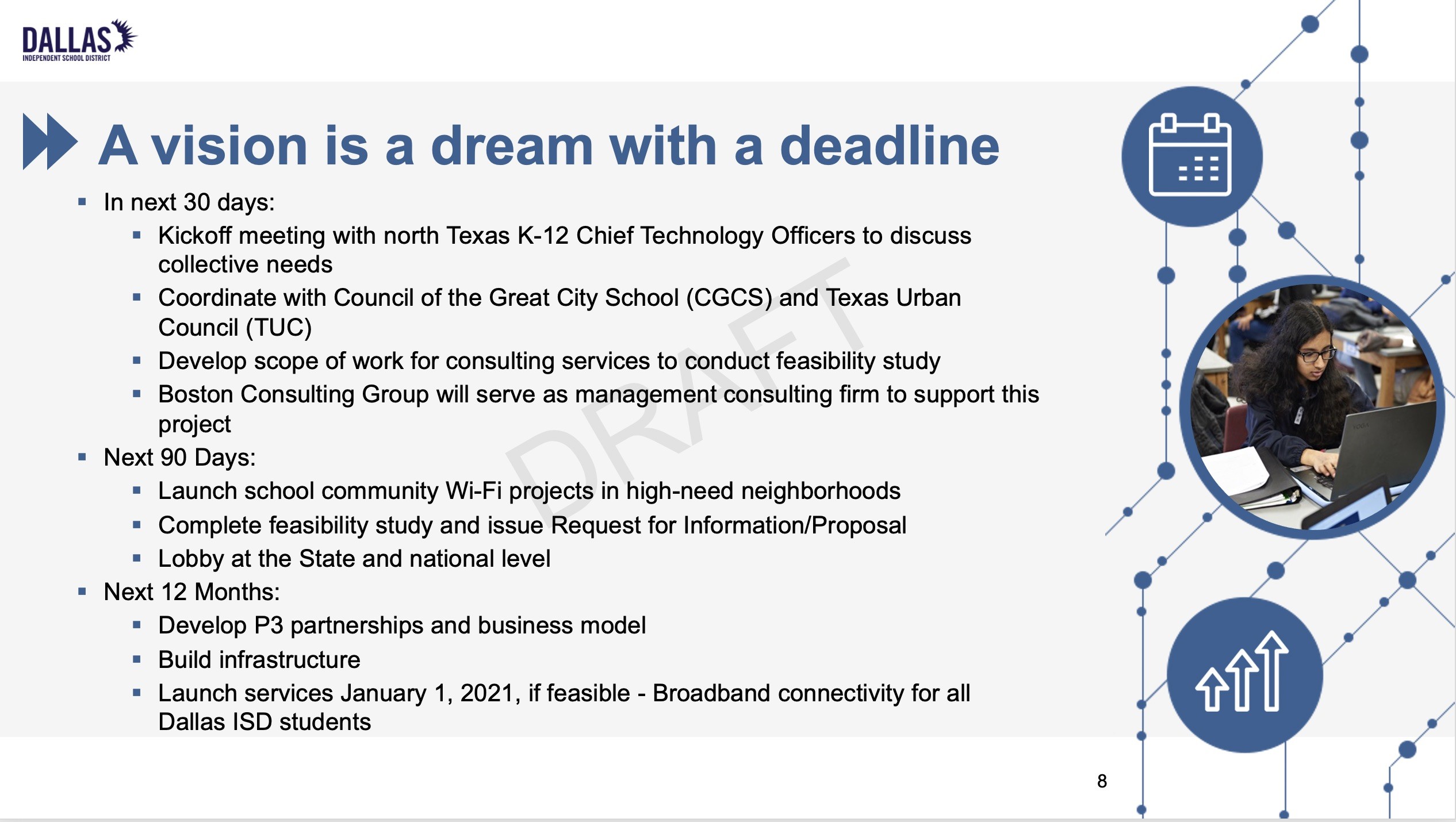 When school buildings closed due to COVID-19 in March, an estimated 36,000 Dallas ISD households had no Internet connectivity. Thanks to action by the Dallas ISD Board of Trustees, Dallas Education Foundation and 1Million Project, the district has distributed 15,800 mobile hotspots to Dallas ISD families as of May 1. While every student who has requested a mobile hotspot has received one so far, district leaders project an additional 6,000 mobile hotspots will be needed to provide Internet access to district families.
Hinojosa said the mobile hotspots are a great short-term solution, but that the reliable and faster broadband Internet connectivity for all families is a necessary long-term solution.
Federal stimulus dollars, public-private partnerships and Dallas ISD reserve funds are potential ways to help fund this initiative. The big first step is having a consultant determine the logistics and cost of providing broadband service to all Dallas ISD families.
"We will relentlessly pursue this until we have an answer," Hinojosa said. "Internet connectivity should join water, electricity, gas and wastewater as an essential service."