Making learning relevant became a reality this year for students in the Texas Academic Pentathlon program. This year's theme was In Sickness & In Health: An Exploration of Illness and Wellness. Designed to include middle school students with a variety of academic abilities, the pentathlon competition is theme based around five subject areas: fine arts, literature, mathematics, science and social science.
In preparation for the regional competition, coaches and students participated in a districtwide workshop in November and attended afterschool practice sessions until the COVID-19 pandemic caused school closings across the District. Coaches and pentathletes immediately pivoted to virtual team meetings in order to continue with their study groups and to prepare for the at-home, online competition.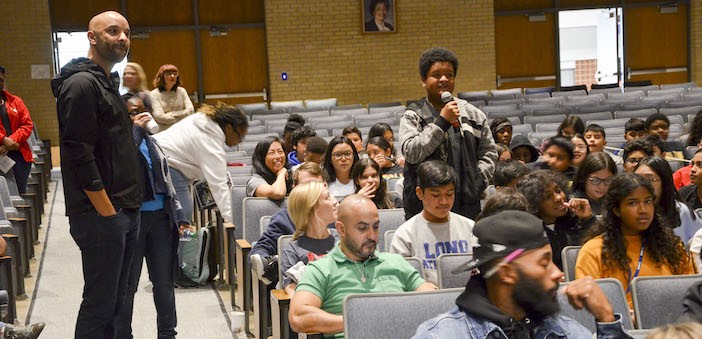 Saturday afternoon on April 25, more than 240 seventh and eighth graders powered up their electronic devices to participate in the Texas Academic Pentathlon Region V online competition.
"The students were a little hesitant about competing online," said Denise Harris, W.H. Atwell Law Academy pentathlon coach. "But I explained to them that right now this is our 'new normal,' and we must embrace it." She added that her pentathletes were "amazed at the fact" that they were reading about the 1793 yellow fever pandemic that happened years ago, and they are actually living during the COVID-19 pandemic today.
With 42 teams from 24 middle schools, Travis Academy for the Academically Talented and Gifted and J.L Long Middle School took first place in the seventh and eighth grade team divisions respectively. The overall individual winner for seventh grade was Andrew Mi from Travis, and Trinity Curry from Long was the top finisher among the eighth graders. Team plaques and individual medals will be distributed to schools at a later date.
Dallas ISD Region V Academic Pentathlon 2020 Highlights:
Texas Academic Pentathlon Region V Team Rankings
7th Grade Overall Winners
Rankings
Team Points
Travis
First Place
13,629
Spence
Second Place
7,805
Browne
Third Place
7,126
TAG @ PG Team 1
Fourth Place
7,126
TAG @ PG Team 2
Fifth Place
6,967
8th Grade Overall Winners
Rankings
Team Points
Long Team 1
First Place
14,836
Rangel
Second Place
11,333
Quintanilla
Third Place
10,916
Spence
Fourth Place
9,413
Travis
Fifth Place
8,341
Texas Academic Pentathlon Region V Super Quiz Rankings
7th Grade Overall Winners
Rankings
Team Points
Travis
First Place
4,750
Browne
Second Place
3,800
TAG @ Pleasant Grove
Third Place
2,900
8th Grade Overall Winners
Rankings
Team Points
Long Team 1
First Place
4,550
Spence
Second Place (Tie)
3,550
Travis
Second Place (Tie)
3,550
Rangel
Third Place
3,450