¡Invitamos a los estudiantes de primaria y sus familias al evento de lectura African American Read-In!
La Oficina de Equidad Racial realizará este evento cultural en colaboración con tres representantes de la Junta Escolar de Dallas ISD en Justin F. Kimball High School, el sábado, 22 de febrero, de 10 a.m. a 1 pm.
Cada estudiante de escuelas primarias recibirá una bolsa de libros gratis para llevar a casa, transporte escolar y un almuerzo. Los libros serán de diferentes niveles y tratarán historias de personajes y escritores afroamericanos.
Además de cuentos e historias, el evento contará con actuaciones musicales, bailes, poesía y actividades interactivas. También tendrán lugar talleres gratis para los padres.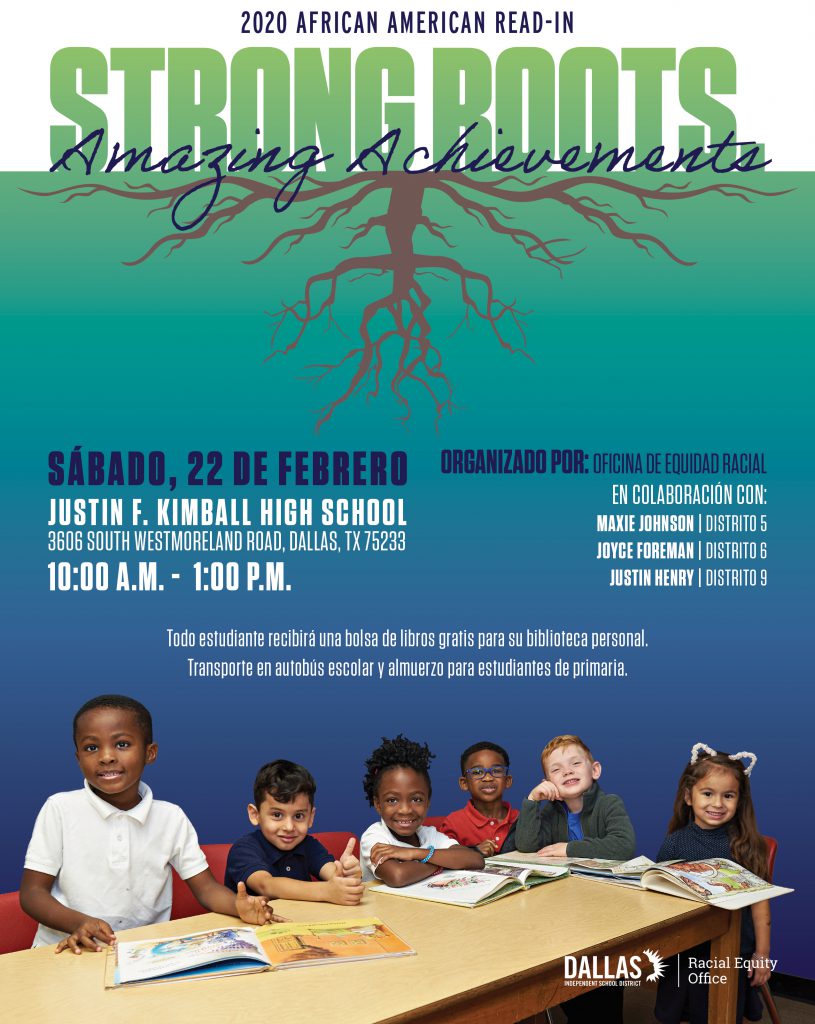 Alejandro Pérez, Jr., consejero personal y artista instructor de Creative Solutions, un programa de Big Thought, será el invitado principal. También pronunciarán discursos Leslie Williams, jefe adjunto de la Oficina de Equidad Racial, Justin Henry, representante del Distrito 9 y presidente de la Junta Escolar, Joyce Foreman, representante del Distrito 6 y Maxie Johnson, representante del Distrito 5.
"Gracias a nuestros representantes por recibirnos, a KPMG por donar libros y a los siguientes departamentos de Dallas ISD y organizaciones independientes que nos ayudaron a realizar este evento: Office of Family and Community Engagement, el Departamento de Artes del Lenguaje y Lectura, Servicios de Transporte Escolar, Servicios de Comunicación, Servicios para Voluntarios y Socios y Big Thought", expresó Monique Jones, coordinadora de participación de padres y la comunidad de la Oficina de Equidad Racial.
El evento African American Read-In es una tradición anual de Dallas ISD. Durante el mes de febrero, varias escuelas, iglesias, bibliotecas y librerías en toda la nación organizan eventos similares. Esto es parte de una iniciativa nacional cuyo fin es que el alfabetismo sea parte integral del Mes de la Historia Afroamericana.