It's Thursday morning, and J.L. Long Middle School dual language teacher Susan Moreno is noticeably stunned as an auditorium full of news cameras, students, Dallas ISD and state leaders suddenly turn their attention to her.
Jane Foley, the senior vice president of the Milken Educator Awards, just announced that Moreno is a recipient of the national award known as the "Oscars of Teaching." Moreno had no idea she was going to win the award that comes with a $25,000 prize.
"This is unbelievable," Moreno said as she walked down the auditorium aisle to receive her award.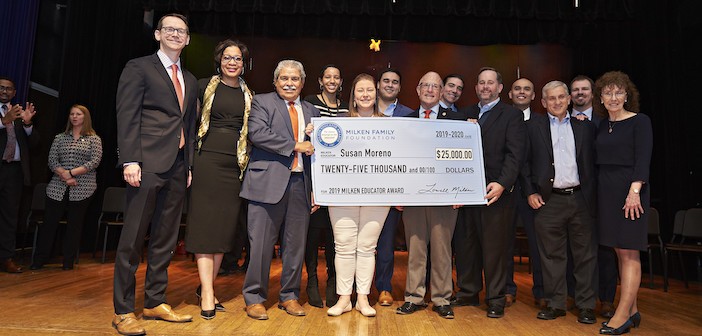 Texas Education Agency Commissioner Mike Morath joined Dallas ISD and state leaders at Long Middle School for the big surprise. Prior to the surprise announcement, Morath commended the great work teachers are doing at Long Middle School and across Dallas ISD.
"For all of the many gifts you have been given in life, for you to devote yourself in this profession and to answer this call, I am so deeply appreciative for what you do for our kids every day," Morath said.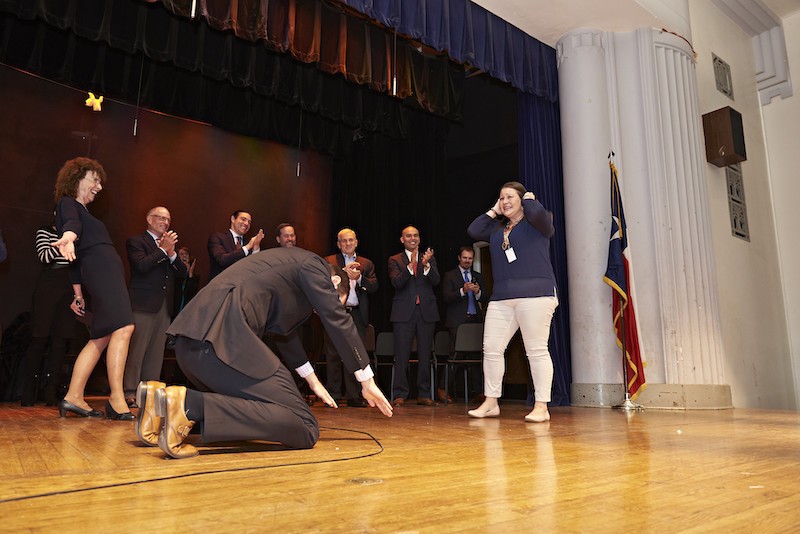 Milken Educators are selected in early to mid-career for what they have achieved and for the promise of what they will accomplish. In addition to the $25,000 prize and public recognition, the honor includes membership in the National Milken Educator Network, a group of more than 2,700 top teachers, principals, and specialists dedicated to strengthening education.
The Milken Educator Award is completely unique: Educators cannot apply for this recognition and do not even know they are under consideration. Candidates are sourced through a confidential selection process and then are reviewed by blue ribbon panels appointed by state departments of education. Those most exceptional are recommended for the award, with final selection made by the Milken Family Foundation.
After winning the award, Moreno thanked her fellow teachers and school administrators who have supported her every step along the way.
"I've been here the last six years because I believe in this school and I believe in my students and all the students at J.L. Long," she said. "I am deeply appreciative, and in complete disbelief, of this honor."