Las dos mejores escuelas STEM del país se encuentran en Dallas ISD, así lo reportó la revista Newsweek el pasado 8 de noviembre, Día Nacional de STEM.
School of Science and Engineering y School for the Talented and Gifted encabezan la clasificación de 5,000 escuelas STEM públicas y privadas en Estados Unidos.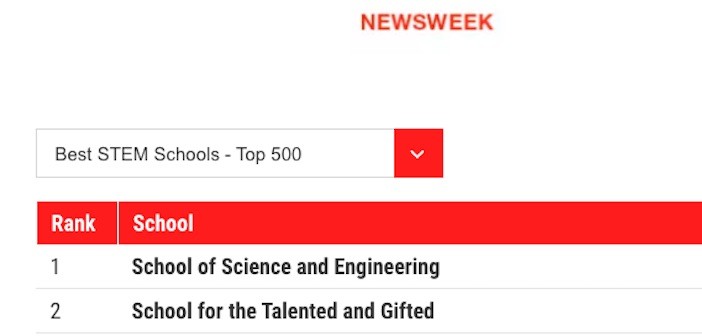 Irma Rangel Young Women's Leadership School, School of Health Professions y Dr. Wright L. Lassiter Jr. Early College High School también forman parte de la lista.
"El futuro de Estados Unidos en ciencias, tecnología, ingeniería y matemáticas esta en buenas manos con instituciones de alto perfil en áreas urbanas y programas pequeños pero sólidos por todo el país", escribió Nancy Cooper, jefa de redacción a nivel mundial de Newsweek. "Basta con ver esta lista de escuelas exitosas. Esperamos que una de ellas sea la escuela adecuada para su familia".
Si les interesa una de las escuelas de Dallas ISD que se encuentran en la lista u otro programa o escuela especializada del distrito, tienen hasta el 31 de enero para presentar su solicitud.