Tras ganar una competencia nacional de iniciativa empresarial en Nueva York este mes, Jasmine Benton, quien hace poco se graduó de la Innovation, Design, Entrepreneurship Academy (IDEA) at James W. Fannin, pensó en todas las personas que la ayudaron a comenzar su carrera.
Benton empezó su negocio de restauración y tapizado de muebles, Precious Designs, a los 11 años. Ella afirma que sus méritos se deben a la fuerte influencia de su madre y abuela, pero también a la educación que recibió en IDEA que le permitió iniciar su carrera con éxito.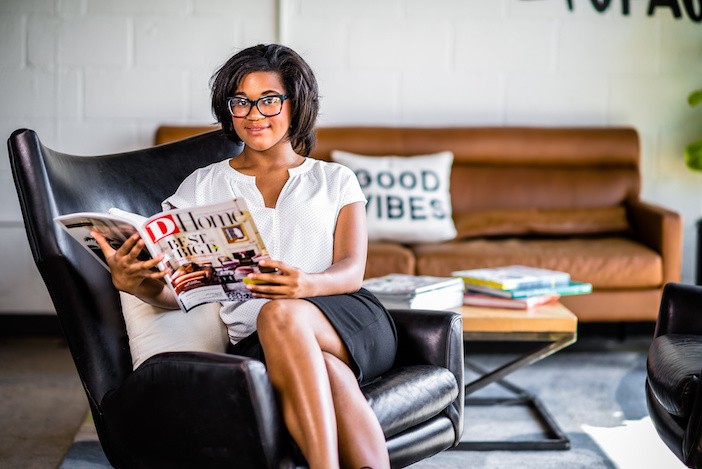 "Mis maestros en IDEA se dedicaron a mí y se cercioraron de que pudiera aprender a nivel empresarial", dijo Benton. "Es maravilloso tener maestros que se preocupan por uno. Me ayudaron a entender lo que se necesita para hacer crecer mi negocio".
Luego de participar en el 2019 Business Venture of the Year at the NFTE National Youth Entrepreneurship Challenge, Benton ganó $7,500 y el apoyo de un inversionista que la ayudará a desarrollar más su negocio. Cuando no está ocupada dirigiendo su negocio y destacándose como emprendedora, Benton estudia su primer año en Oklahoma Christian University.
Benton viene de un largo linaje de mujeres emprendedoras: su abuela le inculcó el amor por el diseño y la mentalidad de que puede lograr cualquier cosa que se proponga.
"El diseño es el motor de mi negocio", dijo Benton. "Me da la motivación y la energía para seguir adelante".
IDEA at Fanin es una de las más de 60 escuelas de opción que estarán representadas en Descubre Dallas ISD, donde los estudiantes podrán escoger la escuela que más se adapta a sus intereses. Nakimia Foster, directora de IDEA, dijo que está emocionada por conocer a los próximos estudiantes que tendrán futuros tan brillantes como el de Benton.
"La educación empresarial sirve como base para inculcar las habilidades creativas e innovadoras que necesitan los estudiantes para triunfar en el siglo XXI. Es una oportunidad para los educadores de ayudarles a realizar sus talentos más allá del típico plan de estudios", dijo Foster. "Nos dan mucho orgullo los logros de Jasmine, y estamos entusiasmados por ver más de lo que hará esta talentosa directora, diseñadora y emprendedora".