"Welcome back to TJ! You got this! We are so, so happy you are here today!"
It's Wednesday morning, and Thomas Jefferson High School Principal Sandi Massey is enthusiastically greeting and dishing out high-fives to every student as they show up for their first day at Thomas Edison Learning Center. Sunday night's tornado did serious damage to TJ, causing students to attend Edison this school year while a replacement campus is built.
"Words can't express how happy I am to see these students show up here today with smiling faces and great attitudes," Massey said. "We are going to make this building feel more like TJ than even TJ did."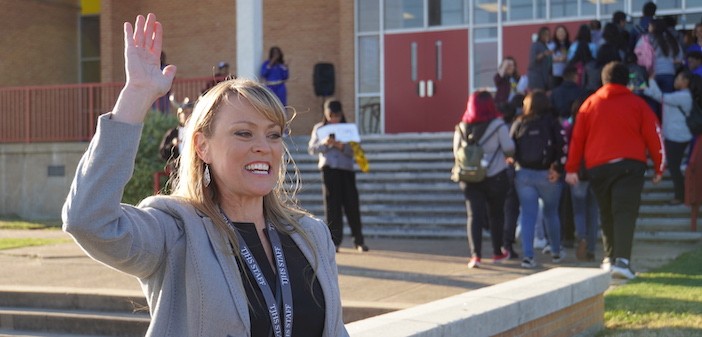 Meanwhile, students from Walnut Hill Elementary School, which was also severely damaged by the storm, got off to a great start on their first day at Tom Field Elementary. Principal Phillip Potter said the outpouring of support from parents and the greater Dallas community positively overwhelmed him.
"Today has been incredible," he said. "Overall, the message we want to send today is even though we lost our building, we didn't lose our school."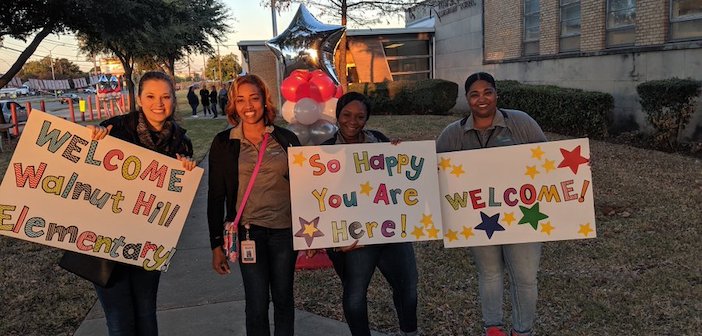 At Alfred Loos Field House, 1,000 students from three campuses–David Burnet, Leonides Cigarroa and John J. Pershing elementary schools–successfully held class at the arena. The students are expected to be back at their home campus by Monday.
Dallas ISD Strong
In a Wednesday afternoon press conference, Superintendent Michael Hinojosa expressed his pride in how Dallas ISD and the greater Dallas community have come together to support the impacted school communities. Dallas ISD is accepting donations and volunteer efforts for those who want to support school communities impacted by the storm; counselors are ready to help students work through any possible trauma; and maintenance and facilities crews worked around the clock to get schools ready for students.
Hinojosa also thanked his senior leaders and campus staff for successfully executing the relocation plans on a tight deadline.
"When you see everything come together, it makes you proud of how people can pull together in a crisis," Hinojosa said. "This is why I'm proud of Dallas ISD: our people step up not only in a crisis, but every day."
In the press conference, Hinojosa reflected on how his memories in Dallas ISD as a student, teacher, coach and district leader impacted his perspective on Sunday's tornados and the aftermath.
"I love this city and I love this district. I think this crisis made us focus all of our efforts in making this (relocation plan) happen," Hinojosa said. "We will have some problems come up from this, but I know we can successfully deal with those problems."