"Maestro de la Semana" (Teacher of the Week) is a series of short videos where we highlight outstanding educators in the Dallas Independent School District.
Sarah Cardenas adds a little bit of herself in every math lesson.
She's in her third year of teaching seventh-grade math at Young Women's STEAM Academy at Balch Springs Middle School (YWSA). She's a third-generation educator, a proud San Antonian and an athletic role-model.
"Ms. Cardenas is a wonderful teacher and model for the characteristics we want our girls to grow into. She's persistent, passionate, and positive!" said YWSA Principal Gabbi Dickson. "She has inspired students and staff alike by coming in mid-year, hitting the ground running and rolling with the punches. She's always offering her support to others but is still willing to learn from veterans or any training so she can be a better teacher for YWSA."
We spoke with Cardenas, who told us about her cultural background, her personalized teaching style and her previous career in advertising.
How do you promote diversity in a math classroom?
This year, I wanted to have a whole bunch of me in the classroom, so that they could know and resonate with who I am as a hispanic teacher and as a role model for them.
My theme this year was Culture Counts. Culture as of where you and your family come from. Culture as in the culture of the classroom, and culture in how we treat each other. It was something I knew I wanted to bring to life because I'm a very, very proud Hispanic woman from San Antonio. I was just brought up to be proud of who I am and where I come from. And I didn't, in the past two years, quite display that as I feel like I should have.
So this year, I took on my classroom. I have papel picado hanging from the top. I have pictures of women of color on the wall. I have a whole wall dedicated to myself and where I went to college, pictures of my family, my favorite quote in Spanish, and things like that, so they could say "Wow! I see myself in her." I wanted it to break down walls and open doors for them to feel comfortable in the classroom. To make math, which is not quite exciting to some kids, something that they were excited about.
Tell us about your career before becoming a teacher.
Before I became a teacher, I worked in advertising. I was actually brand manager with Richards Lerma, an advertising agency that specializes in Hispanic marketing. Prior to Richards Lerma, I worked in The Richards Group, which is general-market advertising.
I started as a math major in college, knowing that teaching would someday be what I'd like to do. My roommate was a communications major and I loved the projects that she was doing, so I decided to sign up for a class. Before I knew it, I had graduated with a Bachelor's in Communication Arts and a Masters in Communication Studies. That's what brought me to Dallas, to work with The Richards Group.
Working at Richards Lerma was a really, really great experience. After some time, I realized that something was missing and I knew that it was something that I would get from teaching.
I did not graduate with an education degree. So, in my time in Richards Lerma, I had to go through the Alternative Certification program with Texas Teachers. And it was actually quite beneficial because it was very adjustable for a busy lifestyle.
How would you describe your teaching style?
My teaching style is very much aligned with who I am as a person. And who I am as a person is very much on the athletic road.
I played sports my entire life. I played volleyball in college and I was just a very driven individual. And that's how I want my students to be. So I hold very high expectations on how they hold themselves. How they speak, and how they treat each other.
And if you noticed, I didn't say anything about math. Because I tell them that I'm invested and I care about so much more than what they can do on a test. I want them to be good young women and people that know how to talk to one another and have a conversation and sound confident. And I just implement on that through the math classroom.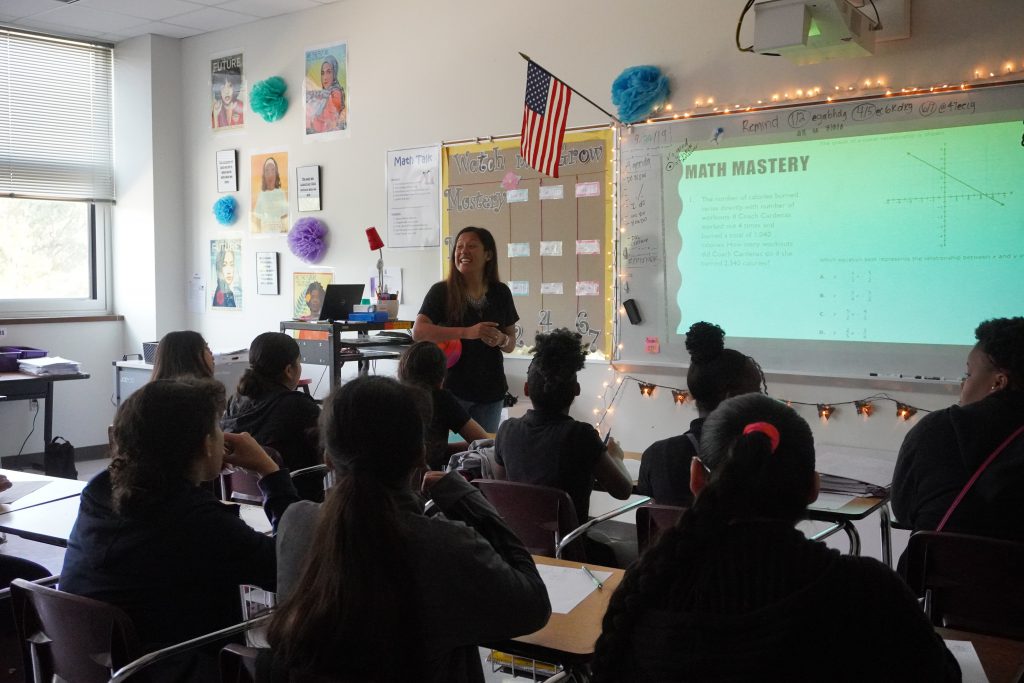 With my girls, every time that they answer a question, I expect them to stand up, speak loud though their diaphragm, face their audience and in complete sentences, and justify their answers. So, I just kind of use math as a vehicle for all those tools. I also hope that they know that my mission here is for them to understand and learn what it means to work hard. So, not so much pass their STAAR or ace this test, do they know how to push themselves as individuals? And again, I'm using math as the vehicle through that.
I have it on my walls. I have it on my desk, I have it when you walk into the classroom. My goal is to cultivate work ethic in the classroom, outside the classroom and in the gym. So, I hope that comes out through my teaching style, and I make sure to restate that expectation every day with my girls.