Dallas ISD continues to show strong gains in academic achievement under the Texas Education Agency's (TEA) A to F accountability system. Overall, the district maintained a grade of B, increasing from an 81 to 86.
Fifty-seven percent of schools earned an A or B in the district's more rigorous local accountability system, 28 of which earned an A. Charles Rice Learning Center, Edward Titche Elementary, and Jack Lowe Sr. Elementary schools were among those earning an A. Middle schools in that category were, Young Women's STEAM Academy at Balch Springs and Raul Quintanilla Sr.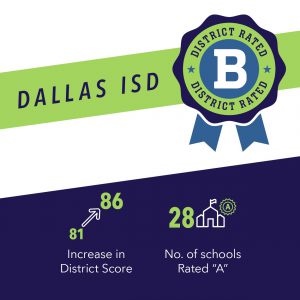 Although the district made significant gains, eight schools were rated F up from four last year. To that end, three of those moved off that list, which means those campuses are no longer on the state's watch list.
More encouraging is the district's ability to lead turnaround efforts for schools that did not perform at state standard and continue successfully modeling the Accelerating Campus Excellence (ACE) program.
While Superintendent Michael Hinojosa says he is proud of the work achieved, he will outline plans to address failing campuses at an upcoming board workshop on Thursday, Aug. 22.
Discussion will be centered around: ongoing efforts to prepare, develop, and retain a strong principal pipeline through the Leader Excellence, Advancement and Development program (LEAD); the importance of creating a positive campus culture and climate; and seeking more resources from the state for schools that do not meet standards.