As part of Girls Inc. Of Metropolitan Dallas, Dallas ISD middle and high schoolers joined other students to "use the force" at this year's Capital One Coders Ignite program. During the day-long event, each student created a mobile Star Wars app with the MIT App Inventor.
The students were all smiles from the start. With the help of Capital One mentors, they designed an app to move the Millennium Falcon spaceship and created an additional app of their own choosing. The apps ranged from painting and gaming programs to educational programs to spur brain development.
"I thought only professionals could build an app, but I was able to do it and make it my own," said Vanessa Sanchez, a rising eighth grader at Dallas Environmental Science Academy. "I learned that there is so much more behind the scenes with technology and I hope to get a career in STEM. Women use technology all the time, so we should have an impact on it!"
Coders is part of Capital One's Future Edge initiative, which prepares more Americans with the skills, tools and resources they need to succeed in an ever-changing digitally-driven economy. The Coders program, which launched in 2014, has already served more than 1,500 students in North Texas.
"Capital One is proud to widen educational opportunities for students through programs like Coders," said David Schaaf, director of data engineering, Capital One Financial Services. "Our Coders Ignite program provides a fun and engaging environment for girls to learn the basic concepts of programming and processing during a critical period in their life, so they can break barriers in the career of their choice."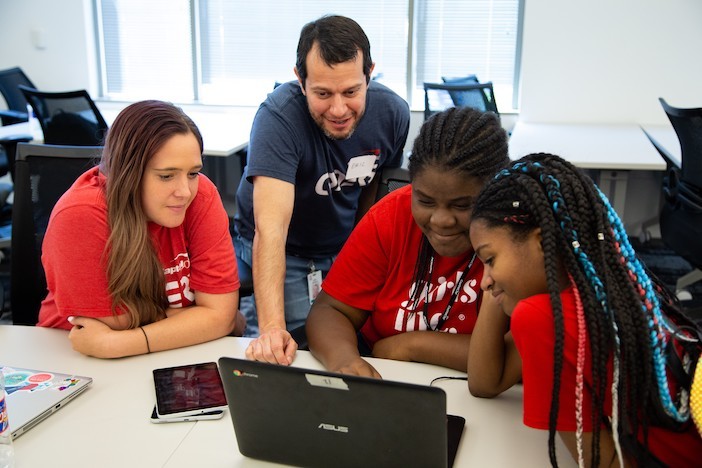 Throughout the summer, various groups of middle school and high school students from Girls Inc. have worked with Capital One mentors to learn about motion detection, control and coding. Students have also learned how to develop apps for mobile language devices and develop critical thinking skills through algorithms, abstraction, decomposition, pattern recognition and generalization.
Block based programming is useful for novices since it provides easy operations and improves the readability of programs. The learning focuses on combining visual blocks that represent elements such as operations and variables.
Girls Inc. believes every girl deserves experiences that will help enable her to earn her education and become a healthy, independent and thriving adult. Girls learn to value themselves, take risks and discover and develop their strengths. Through a combination of long-lasting mentoring relationships and research-based programming, girls are equipped to navigate gender, economic and social barriers as well as grow up prepared for postsecondary success and 21st century careers.
"Capital One affords us the community partners and connections that the Eureka program is all about," said Paige Smith, Director of Special Programs and Recruitment, Girls Inc. of Metropolitan Dallas. "It's so important for girls to get hands-on experience and facetime with men and women in the field, and we're thankful for the learning experience the Capital One Coders Ignite program provides."